Smitty Flat Front Poly Spandex Medium Grey Combo Umpire Pants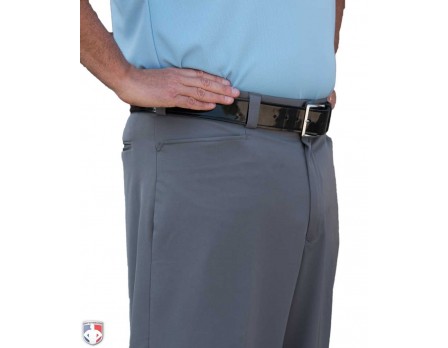 Hover for
larger image
Product Video
OFFICIAL 2-MINTUTE REVIEW: Smitty Flat Front Poly Spandex Medium Grey Combo Umpire Pant
SEC & ACC Baseball Umpire, Scott Kennedy, gives you an "up close" look and description for the Smitty Performance Poly Spandex Flat Front Combo Umpire Pants.
Customer Reviews
Average:
April 3, 2019
These umpire pants fit great and are supper comfortable. I really wish they were just regular pants and not the flat front but I hate pleated pants so I bought these.
September 29, 2017
These umpire pants are the best, soft, smooth, the ability to keep you cool. So much lighter the the traditional pants.
August 25, 2017
While these pants may be the best on the market. College softball management will frown on umpires wearing them as the color does not match the rest of the heather gray pants seen on the field. This will make the umpire stand out not for their performance but for the color of the pants. They are a lighter shade of heather gray and are quite noticeable as being different. Thank you - they are a great pair of pants just wish more thought went into the color to match what is already being worn by the majority of other umpires.
Questions About This Product
Be the first to ask a question about this product!
Articles Related To This Product
Take advantage of sales on umpire and referee gear & apparel. Currently, ALL Smitty Poly Spandex Umpire Pants, Majestic MLB Umpire Shirts and Force3 Umpire Tights with Kevlar Thigh Protection are on sale.
A Twitter survey proves Poly Spandex is the preferred material for umpire pants.
The Best Umpire Products of 2017: Majestic MLB Umpire Shirt, New Balance Umpire Plate Shoes, Pro Grade Magnetic Lineup Card Wallet and Smitty Poly Spandex Umpire Pants square off in semifinal playoffs.