Veteran Umpire Scott Kennedy Shows How-to Clean & Polish Your Plate and Base Shoes
Mar 8th, 2018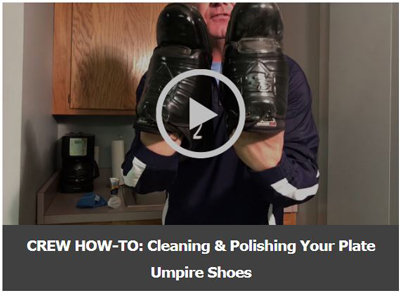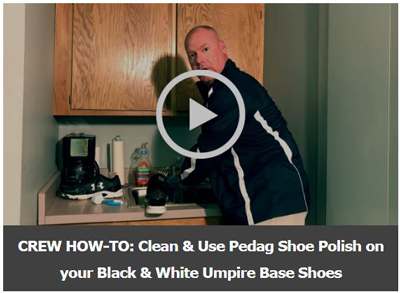 Many of your have asked:
"How do I clean my umpire shoes?"
"What kind of soap should I use?"
"How do I keep my shoes looking shiny?"
"How do I keep the white on my shoes white?"
"How hard is it to clean dirt out of the mesh?"
"What shoe polish should I use?"
ACC/SEC Umpire Scott Kennedy covers all the bases with yet another set of "Crew-How-to" Videos.
Featured in the videos is Pedag Premium Shoe Polish. We love Pedag because it offers an all-in-one tube, polish and sponge applicator. Not only does it provide long-lasting protection and shine, it is a breeze to use and just as simple to store.

You'll notice in the videos that Scott recommends black Pedag polish for umpire shoes that are predominatly black (plate shoes and all-black base shoes); and clear polish for shoes that have some white (base shoes with white). Great advice!
Order your Pedag Shoe Polish here to put in your bag this season.
For more "Crew How-To" Umpire Video Tips, visit our You Tube Channel.
Related Articles
About the Author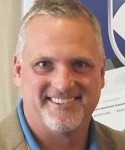 President Jim Kirk
Jim has had a passion for sports since he can remember. After playing baseball at Centre College, he worked as a high school umpire in Kentucky - during the Elbeco shirt years. He became involved in E-Commerce while working on an MBA in the early 2000s and bought Ump-Attire.com in 2006. Jim is proud of Ump-Attire.com's success, staff and sponsorship of various groups including Minor League Baseball Umpires, Minor League Baseball Umpire Training Academy and UMPS CARE, the charity of MLB umpires. He served on their board of directors and was named their 2015 Ambassador Award recipient.