ASK ILA: 10 Tips for Female Umpires to Look Taller That Benefit Short Male and Youth Umpires, Too!
Jul 1st, 2020
I'm a female umpire and am 5' 2" short. You should see me walking on the field with my 6'+ male umpires I work with. Is there anything I can do to look taller?
-Vertically-Challenged from Vermont
First of all, you are not alone. The average height for females is 5' 4". I, myself am 5' 3" and have had to learn ways to look taller to maintain a greater authority and presence on the field. Younger umpires often have the same problem.
These 10 tips & tricks will have you looking instantly taller the next time you step on the diamond as a baseball or fast-pitch umpire.
Wear plate or base shoes with a thicker sole. Combine with another insole to give you instant lift.

Your standard men's short sleeve umpire shirt will have your sleeves hanging lower than your elbows and looking like you are wearing your Grandpa's umpire uniform. Tailor your sleeves to give the appearance of longer arms by shortening the sleeve bottoms to 2" above your elbow.

Look at where your umpire shirt's pocket sits on your chest. If it is at or below your breast, you'll want to tailor your pocket by moving it up to to where it should sit for an average height male umpire. (Related tip: For best appearance as a short female, keep your lineup card holder out of your pocket and in your ball bag).

Hem your umpire pants to 1/4 inch from the ground with your shoes on in order to give your legs as long an appearance as possible.

Lower the waistband of your pants to give your torso a longer length.

Reduce any excess rise/inseam of your pants to further increase your leg lengths' appearance.

Crease your umpire cap. Every little bit helps and that extra point will add just a bit more height over an out-of-the-box, rounded umpire cap.

Like your parents always said, "Head up. Shoulders back. Stand up straight." Specifically, walk with your chin at a 90 degree angle and your shoulders back to give you a taller stature.

You only get one chance to make a first impression. When you're walking on the field, walk a few steps ahead of your taller crew member(s). That will create an illusion of additional height rather than walking shoulder-to-shoulder.

Stand back when talking with or arguing with taller coaches, if possible. That will reduce the angle of eye contact. The less the angle, the taller you appear. Feel free to eject a coach if extra tall or gets too close (Not really, but hey, you are in charge!).

Putting it all together
Don't I look taller than 5'3" using the tips above?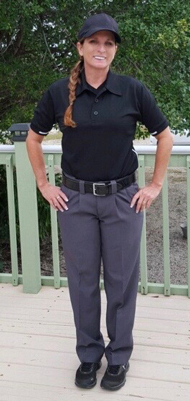 Related Articles
About the Author

Guest Writer, Female Umpire Equipment & Apparel Ila Valcarcel
Ila has umpired at all levels of baseball - Little League, High School, JUCO, College, MiLB scrimmage games, the Women's World Cup in Japan (2008) and on an all-female crew in a New York Mets exhibition game (2008). A graduate of the Wendlestedt Umpire School (2005), she worked for the Florida Collegiate Umpire Association as their only female umpire for 4 years, but after a concussion in 2009 forced her into retirement, she evaluated for them for a year, then moved on to become an Umpire Supervisor for Perfect Game through Ump Nation. Ila has mentored female umpires on how to professionally wear and adjust uniforms and equipment based on body type. She has served as a volunteer at the MLB Umpire Camp in Fort Myers, FL and at the MiLB Umpire Training Academy working specifically with female umpires to maximize their on-field appearance and authority.