Referee Magazine/NASO's Jim Arehart Visits
Dec 26th, 2012
Jim Arehart is the marketing director of Referee Magazine/NASO (National Association of Sports Officials).
In the Louisville area for the NCAA Final Four Volleyball Tourney, Jim stopped by our office for a little Q&A with staff and a little pie.
Staff brought questions ahead of time, and we were enlightened on subjects such as the process of developing the magazine each month, how cover photos are decided, thoughts on current topics such as instant replay and liability insurance for officials, the demographics of subscribers and the relationship between Referee and NASO.
What we learned that you may not have known is that:
Articles from the magazine are most often written in advance. There are no stop-the-presses type scenarios.

There are very few sports photographers across the country who focus on photos of officials and this process is often more art than science.
NASO is the non-profit arm of Referee Magazine and staff dedicate time to each throughout their work days.
Most officials, as subcontractors, do not have liability insurance while many of them feel homeowners' insurance will cover them (not true).

NASO has a program for groups to obtain membership - that includes insurance - at a discount rate.
One quote Jim shared was directed toward us as a company with sports officials as customers.
"Sports officials have traditionally been a group who aren't listened to or given the respect they deserve. Just listening to them and providing them that respect can go a long way."
Related Articles
About the Author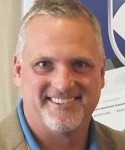 President Jim Kirk
Jim has a heart for sports officials and is a leading expert on umpire gear, safety and apparel. After playing baseball at Centre College, he worked as a high school umpire during the Elbeco shirt years. He became involved in E-Commerce while working on an MBA in the early 2000s and bought Ump-Attire.com in 2006. Jim is proud of Ump-Attire.com's success, staff and support for multiple groups including Minor League Baseball Umpires, Minor League Baseball Umpire Training Academy, the Wounded Warriors Umpire Academy and UMPS CARE, the charity of MLB umpires. He served on the UMPS CARE board of directors and was named their 2015 Ambassador Award recipient.