Umpire Shin Guards Buying Guide
Jul 4th, 2022
The best umpire shin guards today offer greater protection than ever before. The correct name should actually be "leg guards" instead of "shin guards" as all styles provide protection not only to the shins, but also to knees, ankles and in some cases, to the thigh and foot as well.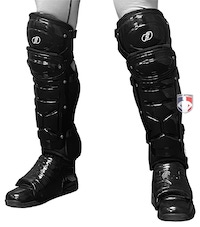 Keep reading and we'll help you find the best umpire shin guard for you.
if you want Thigh Protection
Let's work our way from the top to the bottom.
If you decided not to wear any leg protection, although not recommended at any level, the place where you might prefer getting hit is on the thigh. The reason is that you have more meat there to cushion the blow (compared to say your knee or shin). Also, depending on your stance, you're least likely to take a direct blow in that location. Instead, the blow there will more likely be more of a glancing one.
Having said that, you may still want lower thigh protection. That's more than ok. Some reasons to wear umpire shin guards with thigh protection:
Amateur levels where the pitchers and catchers aren't as reliable (in other words, you are prone to get hit more often)
Professional levels where the ball travels with greater velocity
You like the extra confidence
You bruise easily (we hear this most often in older umpires.)
You'll find lower thigh protection in the topmost "knee" of extended or triple-knee umpire shin guards. In other words, if your shin guard has 3 knees, your knee goes in the middle knee and the knee above is for your lower thigh.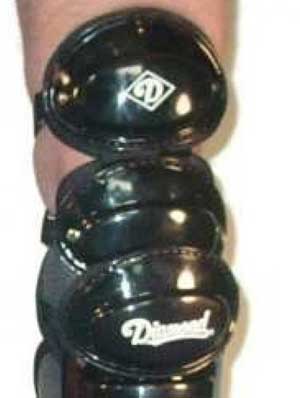 Here are the 2 triple-knee umpire shin guards, in order of most lower thigh protection.
Champro Pro-Plus Umpire Shin Guards
Lower thigh protection at a value price, which is why it is most popular at youth to high school levels.



So, let's say you do want lower thigh protection but still can't decide which one, this might help.
All models protect at any level. Protection is inverse to weight. Of these 2, if you want a little more protection, the Diamond iX3 is more protective than the lighter Champro Pro-Plus.

Best Ankle Protection
The same logic regarding lower thigh protection applies to the ankles. For instance, you'll take a more glancing blow at your ankles if your toes are pointed forward where they should be.
The difference is that while not all umpire shin guards have lower thigh protection, all do have some degree of ankle protection.
The three types of ankle protection in umpire shin guards are:
Full hard ABS shell on foam padding
Soft-shell only

The happy-medium soft shell with hard inserts
Obviously, the hard ABS shell on foam padding is the setup that provides the most ankle protection. Umpire shin guards who follow this are the new Wilson Pro Gold 2 Umpire Shin Guards (photo below).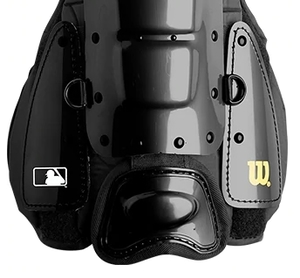 In the soft-shell with hard inserts category, the Force3 Ultimate Umpire Shin Guards and Champro Pro-Plus are more substanial in the ankle area and offer more protection there than the lower profile Diamond Featherweights.
WIth that knowledge in mind, ankle protection in 1-4 order:
All other umpire shin guards are soft-shell ankle protection only.
Measuring for Shin Guards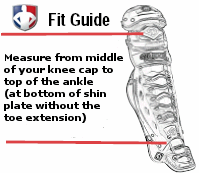 Before we talk about which umpire shin guards are better for shorter (or taller umpires), let's get out the measuring tape. Visit our Fitting Room for a Crew How-To: Measure and Size Your Umpire Shin Guards.
White it seems reasonable that umpire shin guards would be measured by their full length from the tip of its top to the tip of its bottom, this is a common misconception.
Instead, they are measured by their fit or, more specifically, where they should fit. Where they should fit is from the area where the middle of your knee would go on the shin guard to the bottom of the shin guard without a toe plate.
For you, find your shin guard size by measuring from the center of your kneecap to the bottom of your shin (where the leg meets the top of the foot). This is best done in a seated position.
Normally, 17" shin guards will fit individuals in the 5' 10" to 6' 1" range. Above 6' 1", you would go up a size. Below 5' 10", go down. However, this is just a general rule. Simply measuring yourself knee-to-foot before ordering will alleviate most potential problems. If in doubt, always go with the larger size as it's better to have more coverage than to be short in this department.
Out of all umpire protective gear, shin guards are returned more often than masks and chest protectors due to sizing issues. So, know your shin guard size!
BEST FOR TALLER (OR SHORTER) UMPIRES
The standard umpire shin guards size is 17". All umpire shin guards at least have this size. Some have this size and a smaller 15" or 15.5" size. Some have a 17" size and a taller 18" or 18.5" size.
However, these umpire shin guard sizes below have the largest range (in no particular order).
Note that if your shin guard size measures greater than say 18.5" to 19", you're not completely out of luck. Your best option to ensure that at least your knee is covered is to purchase a triple-knee shin guard (Diamond iX3 or Champro Pro-Plus) to gain some height with the topmost "knee" (see "If You Want Thigh Protection" above).
Most Comfortable anD LIGHTEST WEIGHT
In general, the fewer the "knees", the more comfortable and less cumbersome umpire shin guards are than, say, the triple knee varieties. Therefore, there is often a trade-off in comfort and protection.
Know that the lower knee of a double or lowest of a triple-knee umpire shin guard allows for a natural flex as you bend or run by "floating" over the bottom of the knee, above it and the shin area below it. As a result, the floating knees prevent gaps the baseball or softball might find otherwise.
Most single knee shin guards go further in the area of comfort by going strapless around the back of the knee. More on that in the section below.
Added to your consideration of comfort is weight. Here are the umpire shin guards by weight (lightest first, 17" sizes)
Diamond Featherweight: 1.6 lbs

Champro CG108 Single Knee: 2.1 lbs
Diamond iX3: 2.2 lbs
All-Star Cobalt: 2.3 lbs
All-Star LP1 Single Knee: 2.5 lbs
Diamond UXS: 2.8 lbs
Force3 Ultimate: 3.0 lbs
Champro CG3 Pro-Plus: 3.0 lbs
Wilson Pro Gold 2 (new): 4.0 lbs
Least Strap Irritation
As many of you know, shin guards sometimes like to rub you the wrong way at the back of your knees or calves. The preferred method of top umpires to prevent rubbing by shin guard straps is to wear tights.
If you want to go a different route, several umpire shin guards attempt to make things more comfortable in these areas through various features. The least strap irritation is:
Diamond Featherweight Umpire Shin Guards
No strap around the knee

Varous other models including the Diamond iX3 Umpire Shin Guards (below) have padding that extends around the back of the leg to help prevent much of the rubbing that can occur.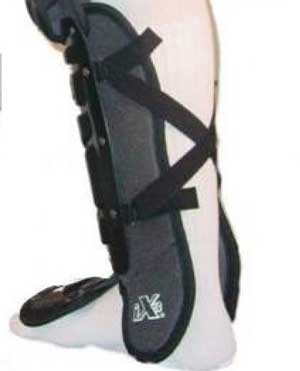 Foot Protection: The Toe Plate and Plate Shoes
Umpire shin guards often come with a toe plate (photo below). It's quite a useless feature if you have plate shoes - which you most definitely should be wearing at any level to avoid a broken toe or foot - and useless still if you don't have plate shoes as the toe plate won't cover the entire foot. In that way, the toe plate is the appendix of the umpire shin guard.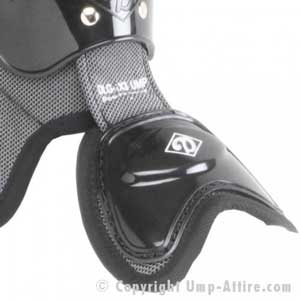 You'll find umpire shin guards typically come with either no toe plate or an easily removable toe plate that is in place with Velcro.

Paying for Protection, Comfort and more
As you may know by now, you'll pay more for more protection and comfort. The Wilson MLB West Vest Pro Gold 2 shin guards are great for that 90+ MPH fastball or foul ball, but probably overkill for youth leagues. The Force3 Ultimate Shin Guards are designed with comfort in mind with multiple features.
Best of All Worlds
To recap, we mentioned that the most protective shin guards are the triple knee variety and the most comfortable ones are the lighter weight single knee variety. So, the more knees, the greater the protection. The fewer the knees and/or lighter the weight, the greater the comfort.
What's a person to do who wants both protection and comfort? It's a toss-up. These are our top 2 recommendations for best middle-ground on protection and comfort if you are ok with not having thigh protection.
BEST SELLERS
At Ump Attire, while in any category, find "Sort By", then select "Most Popular". This will provide you with which umpire shin guards other umpires have purchased more (or less of) within the past 12 months.
We'll give you a shortcut here if you want to take a look: Most Popular Umpire Shin Guards
TOP REVIEWED
Another nice feature is to "Sort By: Reviews: Highest-to-Lowest". As of writing, we have 250+ reviews from fellow umpires on their shin guards.
Another shortcut: Highest Reviewed Umpire Shin Guards
Want to Know More?
Each umpire shin guard product page provides detailed information, sizing options, related blog articles and additional images including shin guards worn front, back and side, something you'll only find here at Ump-Attire.com.
Comparison Chart
Umpire Shin Guards
Knees
Weight (both)
Ankle Protection
Toe Plate
Other Features
Sizes
(measuring)
Colors
Wilson MLB West Vest Pro (discontinued)
3
5.2 - 5.6 lbs
Hard Shell
Yes
Nylon Shell Padding, MLB Logo
16-17"
18-19"
Black
Diamond iX3
3
2.1 - 2.2 lbs
Soft Shell
Yes
(Removable)
Moisture Management

15 1/2"




17"




18.5"

Black/Grey
Wilson MLB Pro Gold 2 (new)
2
4.0 lbs
Hard Shell
Yes
(Removable)
Nylon Shell Padding with Memory Fosm Channel, MLB Logo
15 1/2"
17"
18.5"
Black
Force3 Ultimate
2
3.0 lbs
Inserted Plate
No
Kevlar layer, Slim Profile

14.5"




16.5"




18.5"

Charcoal
Diamond DLG-UXS
2
2.8 lbs
Soft Shell
No
Wrap-around padding extension
17 1/2"
Black
Diamond Featherweight
1
1.6 lbs
Soft Shell
Yes
(Removable)
Lower Profile, Strapless Knee Design, Tifco Buckles

15"
17"
18.5"

Black
All-Star Cobalt
2
2 - 2.5 lbs
Soft Shell
No
Lower Profile, Memory Shell, Perforated Foam and Metal Buckle Straps
15"
17"
19"
Black
All-Star LP1 Single Knee
1
2.5 lbs
Soft Shell
No
(Removable)
Lower Profile and Metal Buckle Straps
17"
Black
Champro Pro-Plus CG3 Triple Knee
3
2.8 - 3.2 lbs
Soft Shell
Yes
(Removable)
Lower Profile, Moisture Management
15 1/2"
17"
18.5"
Black
Champro CG108 Single
1
2.1 lbs
Soft Shell
No
Lower Profile, No Strap Around Knee
17"
Black
About the Author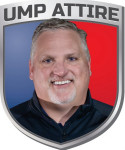 President Jim Kirk
Jim is a leading expert, educator and author on umpire gear, safety & appearance. After playing baseball at Centre College, he worked as a high school umpire. He became involved in E-Commerce while working on an MBA in the early 2000s and bought Ump-Attire.com in 2006, He eventually led it to the leading umpire gear & attire retailer worldwide, a "Best Places to Work in Louisville" honor in 2020 & 2021 and a National Association of Sports Officials (NASO) Preferred Vendor. He maintained a long-standing relationship with Minor League Baseball Umpire Development & Training Academy for 10 years. He serves as an adviser to UMPS CARE Charities, the charity of MLB umpires, served as a 2-term board of director from 2012-2018, and was named their 2015 Ambassador Award recipient. A supporter since the inception of the Wounded Warrior Umpire Academy, he was named to their Board of Directors in 2020.