Umpire Jackets Buying Guide
Feb 7th, 2018
Let's face it. Umpire jackets are meant to keep you warm. It can get cold in the early part of your season, at night and in most areas farther away from the equator.
There are more choices available in umpire jackets than ever before. No longer are jackets only available in one medium weight style.Now they are also available for any climate from lightweight convertbies with zip-off sleeves to heavyweights with fleece lining.
Warm (For cool or changing weather)
A jacket that has zip-off sleeves just above your elbow is called a convertible jacket. It provides the best versatility in adapting to cool conditions or changing temperatures.
Smitty's convertible jacket comes in both navy, and the overwhelmingly more popular, black. The Smitty Black Convertible is worn by most college baseball conferences and Minor League Baseball.
The Smitty Convertible is based on the style of the no-longer-available Majestic MLB CoolBase convertible. Well-constructed, some have complained the Smitty version has a slightly stiffer fabric when compared to the Majestic model. It does, but one benefit of the stiffer fabric is that it helps your collar to remain standing. Wearing it standing-up looks better.
In addition, Smitty also offers an older style Black Convertible Jacket with Horizontal White Piping that is fading in popularity.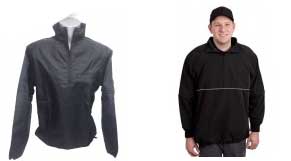 Warmer (For cold weather)
If you are looking for a traditional umpire jacket, the most popular ones are the Smitty Half-Zip Jackets. These have been around the longest, offer medium weight and are available in 4 color-trim combinations (2 offerings in black with white: 1 elastic bottom, 1 open-bottom that can be easily tucked into your pants).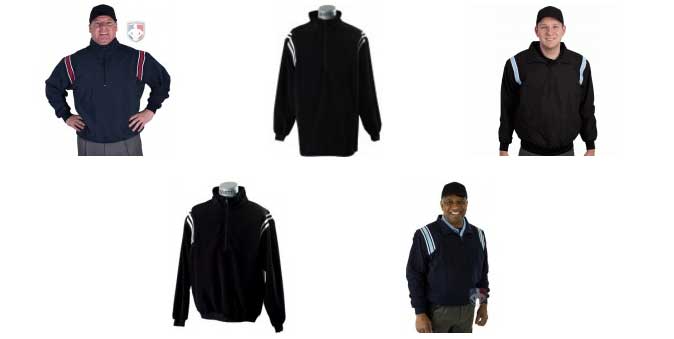 Warmest (For coldest temperatures)
Consider the Smitty Fleece Lined Jacket your winter coat for umpiring, but without the bulk of a typical winter coat. This, too, was based on a Majestic model called the Thermabase Jacket (no longer available).

Advanced tips
Which umpire jackets can you wear behind-the-plate and which can you wear on-the-bases?
Typically, if it has elastic around the bottom, most use it as a base jacket. This is mainly because it is more difficult to tuck the jacket in your pants. This doesn't mean you can't wear any jacket as a plate jacket. Indeed, all umpire jackets are sized to be worn over a chest protector should you choose to do so. Our own D1 umpire Scott Kennedy often prefers his convertible jacket with the sleeves zipped-off behind the plate.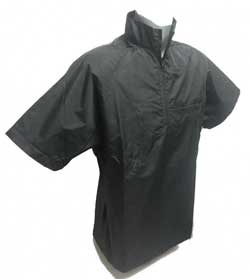 Why Two Convertible Jackets in Your Bag
Seasoned umpires tell us they purchase two convertibles. In this way, they leave one with their sleeves on and the other with their sleeves off. By doing so, they simply wear the jacket with the desired arm length without having to unsecure and/or re-secure the arms.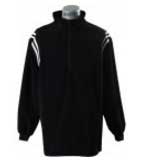 The 3 other long-sleeve options in plate work.
Smitty Black/White Open Bottom Umpire Jacket - designed to be tuckable
Long Sleeve Umpire Shirt

Vintage umpire plate coat - These do not provide the necessary combination of athleticism and formality required in umpiring, so we have drawn a line-in-the-sand over the years against considering them. Due to lack of popularity, other suppliers who used to offer them no longer do.
About the Author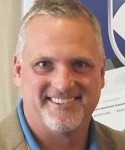 President Jim Kirk
Jim has had a passion for sports since he can remember. After playing baseball at Centre College, he worked as a high school umpire in Kentucky - during the Elbeco shirt years. He became involved in E-Commerce while working on an MBA in the early 2000s and bought Ump-Attire.com in 2006. Jim is proud of Ump-Attire.com's success, staff and sponsorship of various groups including Minor League Baseball Umpires, Minor League Baseball Umpire Training Academy and UMPS CARE, the charity of MLB umpires. He served on their board of directors and was named their 2015 Ambassador Award recipient.