Umpire Jackets Buying Guide
Jan 12th, 2022
Umpire jackets are meant to keep you warm and dry. It can get cold and wet in the early or late part of your season and in most areas farther away from the equator.
Contents: Warm | Warmer | Warmest
There are more choices available in umpire jackets than ever before. No longer are jackets only available in one medium-weight style. Now they are also available for any climate from lightweight convertibles with zip-off sleeves to heavyweights with fleece lining.
Warm (For cool or changing weather)
A jacket that has zip-off sleeves just above your elbow is called a convertible jacket. It provides the best versatility in adapting to cool conditions or changing temperatures and weather conditions.
The newest release, as seen on Major League fields, is Smitty's Convertible Umpire Jacket - Black with Charcoal Grey. A weather-resistant coated micro-fiber outer shell is moisture-wicking and water repellent for warm or rainy conditions.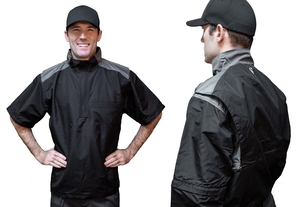 If you are looking for a solid color, see the Smitty Black Convertible, worn by most college baseball conferences and Minor League Baseball. This jacket is a single layer, water resistant shell based on the style of the no-longer-available Majestic MLB CoolBase convertible.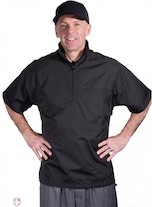 Short sleeve jackets (without the zip-off sleeves) are growing in popularity. They have the crisp and neat look of a pullover in those games where the temperature and a long-sleeve pullover will leave you sweaty. They are available in multiple colors.



Warmer (For cold weather)
If you are looking for a traditional umpire jacket, the most popular ones are the Smitty Half-Zip Jackets. These have been around the longest, offer medium weight and are available in 4 color-trim combinations (2 offerings in black with white: 1 elastic bottom, 1 open-bottom that can be easily tucked into your pants).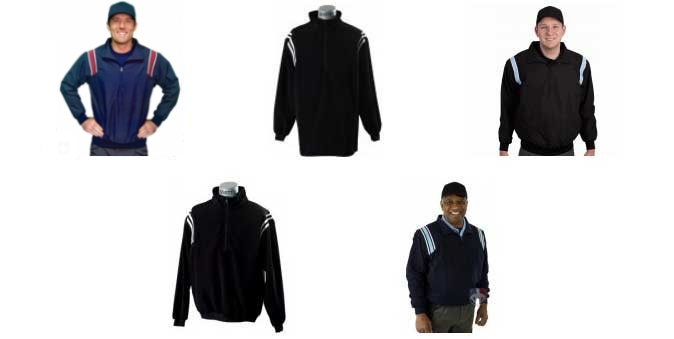 Warmest (For Coldest temperatures)
Consider Fleece Lined Jackets your winter coat for umpiring, but without the bulk of a typical winter coat. A wind-proof outer shell with warm fleece inner lining jacket keeps you toasty through cold innings.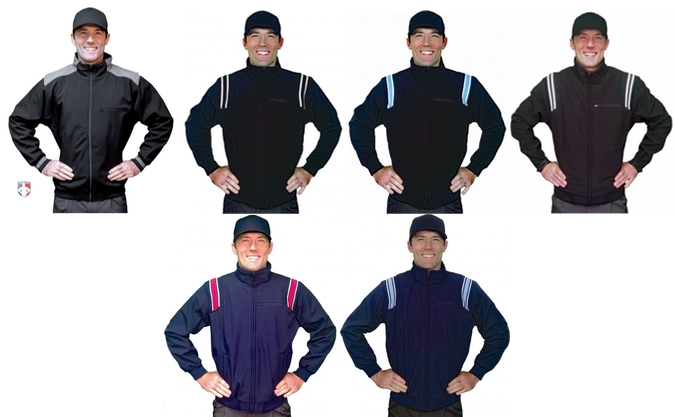 These jackets were also based on a Majestic model called the Thermabase Jacket (no longer available).

Advanced tips
Which umpire jackets can you wear behind-the-plate and which can you wear on-the-bases?
Some umpires find that it is easier to access their ball bags with the Smitty Black & White Open Bottom Umpire jacket tucked in to their waistband.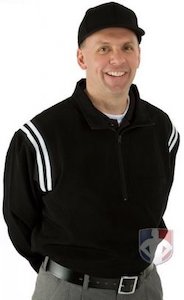 Some umpires find that jackets with an elastic waistband resting at their waist, the ball bag opening is accessible at the where the elastic waistband rests.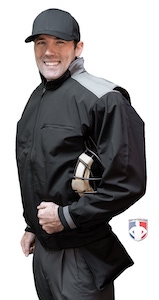 All umpires agree that jackets are sized for wearing behind the plate and should size down for base work.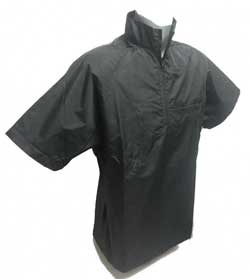 Why Two Convertible Jackets in Your Bag
Seasoned umpires tell us they purchase two convertibles. In this way, they leave one with their sleeves on and the other with their sleeves off. By doing so, they simply wear the jacket with the desired arm length without having to unsecure and/or re-secure the arms.
More Cold Weather Related Guides
About the Author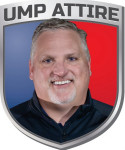 President Jim Kirk
Jim is a leading expert, educator and author on umpire gear, safety & appearance. After playing baseball at Centre College, he worked as a high school umpire. He became involved in E-Commerce while working on an MBA in the early 2000s and bought Ump-Attire.com in 2006, He eventually led it to the leading umpire gear & attire retailer worldwide, a "Best Places to Work in Louisville" honor in 2020 & 2021 and a National Association of Sports Officials (NASO) Preferred Vendor. He maintained a long-standing relationship with Minor League Baseball Umpire Development & Training Academy for 10 years. He serves as an adviser to UMPS CARE Charities, the charity of MLB umpires, served as a 2-term board of director from 2012-2018, and was named their 2015 Ambassador Award recipient. A supporter since the inception of the Wounded Warrior Umpire Academy, he was named to their Board of Directors in 2020.