Umpire Equipment Suppliers Outfit Warriors
Jun 24th, 2014
Umpires are often referred to as "Brothers in Blue" because they know what it means to look out for one another on the baseball field. In much the same way, Marines share a strong bond of brotherhood forged by common experiences in training and on the field of combat.
When a Marine is wounded and no longer able to serve, there is a deep sense of loss- namely a loss of purpose and belonging. Often, Marine life is all these brave heroes know; and, without the camaraderie of their brothers, transitions to new phases of life can be very difficult. Wounds, those visible and not visible, can make integrating into the molds of civilian careers challenging.
Luckily, The Lester Foundation, which provides training to veterans, along with the Wounded Warriors Project, saw an opportunity. Not only did they aspire to offer wounded warriors a new career using some of the skills from their Marine background, but also a new brotherhood… as Umpires. Together, they planted the seeds for a Wounded Warrior Umpire Camp and within 90 days, their dreams turned into a reality!
The first Wounded Warrior Umpire Camp was held this spring in Denver, Colorado. Fourteen wounded warriors were flown out courtesy of the Semper Fi Fund and housed in Denver- accommodations covered by the Lester Foundation. They worked each day with a top-notch umpire training staff from the Colorado Collegiate Umpire Association learning the ropes of umpiring.
Very humbled and inspired by the service of the Marines and the goals of the Lester Foundation, Ump-Attire.com spearheaded the donation of the highest quality equipment to fully outfit all fourteen umpires. Within a very short amount of time, these new Brothers in Blue were set up from head to toe by our gracious suppliers with hats from Richardson, shirts and pullovers from Majestic, pants from Smitty, patent leather belts from Boston Leather, compression shorts from Shock Doctor, Nutty Buddys from Battle Sports, Gold chest protectors and leg guards from Wilson, IX3 masks from Diamond, pads from Team Wendy, plate and base shoes from New Balance and gear bags to hold it all from Champro! The support was overwhelming!
After completing their training and being outfitted, these fourteen wounded warriors were welcomed into a new band of brothers – the Brothers in Blue and offered a new start as umpires in associations all over the United States. As for the Wounded Warrior Umpire Camp, there are plans to continue and expand in the years to come.
Watch this amazing video of the camp here – it's well worth the watch!
Related Articles
About the Author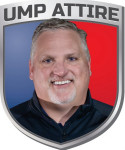 President Jim Kirk
Jim is a leading expert, educator and author on umpire gear, safety & appearance. After playing baseball at Centre College, he worked as a high school umpire. He became involved in E-Commerce while working on an MBA in the early 2000s and bought Ump-Attire.com in 2006, He eventually led it to the leading umpire gear & attire retailer worldwide, a "Best Places to Work in Louisville" honor in 2020 & 2021 and a National Association of Sports Officials (NASO) Preferred Vendor. He maintained a long-standing relationship with Minor League Baseball Umpire Development & Training Academy for 10 years. He serves as an adviser to UMPS CARE Charities, the charity of MLB umpires, served as a 2-term board of director from 2012-2018, and was named their 2015 Ambassador Award recipient. A supporter since the inception of the Wounded Warrior Umpire Academy, he was named to their Board of Directors in 2020.