U.S. HOLIDAY SHIPPING HELP: I'm on the Nice List, Will My Package Arrive in Time?
Dec 15th, 2018
We know your big question is "Will my order arrive in time for Christmas?"
Answer: Yes. You ARE on our nice list. Stay on it by reading below.
CHECK YOUR EXPECTED DELIVERY DATES AT CHECKOUT
The good thing is that all shipping options - paid and free - are calculated for you at checkout and given to you directly by our shipping carriers. This way, you know.
know we are shipping right away
When you order before 2:30pm ET on a business day and pay for shipping, WE SHIP IT! It doesn't matter if it's Christmas time or if we have a sales day that is double what is expected.
If you are eligible for and choose free shipping, we use our current order volume to determine whether to wait 1 or 2 days to ship your order. The delivery date quote at checkout accounts for this automatically abd adds 2 days to this the date for you (which means it may actually arrive 1 day earlier than the expected date quoted).
add 1 day of padding ON NON-GUARANTEED SERVIcEs just in case
The not-so-good news this Christmas season is that due to current heavy E-Commerce volume nationwide, less expensive UPS Ground and USPS Priority Mail & First Class options may take 1 additional day to get packages to you. If you are worried, UPS 2nd Day and Next Day Air are considered guaranteed options.
MORE details
I hope that helps. For more shipping information, visit Customer Service > Shipping.
Merry Christmas and thanks for your business.
Related Articles
About the Author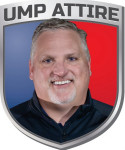 President Jim Kirk
Jim is a leading expert, educator and author on umpire gear, safety & appearance. After playing baseball at Centre College, he worked as a high school umpire. He became involved in E-Commerce while working on an MBA in the early 2000s and bought Ump-Attire.com in 2006, He eventually led it to the leading umpire gear & attire retailer worldwide, a "Best Places to Work in Louisville" honor in 2020 & 2021 and a National Association of Sports Officials (NASO) Preferred Vendor. He maintained a long-standing relationship with Minor League Baseball Umpire Development & Training Academy for 10 years. He serves as an adviser to UMPS CARE Charities, the charity of MLB umpires, served as a 2-term board of director from 2012-2018, and was named their 2015 Ambassador Award recipient. A supporter since the inception of the Wounded Warrior Umpire Academy, he was named to their Board of Directors in 2020.