STUBBY SAYS: Check the Space Above Your Umpire Chest Protector in Your Stance
Jan 10th, 2012
Mark is the medical coordinator for Minor League Basbeall Umpire Training Academy. These tips came from discussions with Mark and his talk "Common Injuries for Umpires" he gives at the pro umpire school.

Mark Stubblefield, medical coordinator for Minor League Baseball umpires, stressed to students the importance of wearing your umpire chest protector snug at the neck while standing. Wearing it snugly prevents the chest protector from dropping unsafely when you get in your stance exposing your upper chest and collar bone.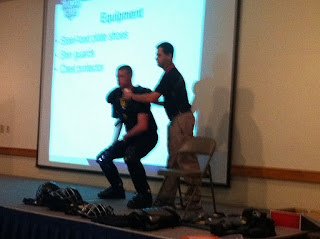 Mark Stubblefield uses a baseball to demonstrate the gap which leaves the body exposed when squatting wearing a non-snug chest protector.
The best practice is to check this space, while in your stance, with a baseball or your fist and use a mirror or your partner to help. If you have a space in this location, simply tighten your chest protector's straps.

When you are trying out an umpire chest protector for the first time, make sure to do more than just see how it feels and fits while standing. Get in your stance to simulate your on-field experience. Be sure you purchase one that is not only most comfortable, but also provides the greatest amount of coverage in key areas of the collar bone, chest and ribs.

What tips do you have toward proper wear of your chest protector?
Related Articles
About the Author

Medical Coordinator - MiLB Umpire Training Academy Mark Stubblefield
Mark coordinates the preventative care and injury treatment for MiLB Umpire Training Academy students while offering expertise in fitness, nutrition, health and wellness. He currently works with Minor League Baseball umpires throughout the United States and Canada and joined the MiLB staff in February 2011, after a 10-year career as a certified athletic trainer with both the Cincinnati Reds and Kansas City Royals. He received a Bachelor's degree in Athletic Training from Indiana State University in 2000 and a Master's degree in 2001 from California University of Pennsylvania. The Kansas City, Mo., native is a member of the Professional Baseball Athletic Trainers Society (PBATS) and the National Athletic Trainers Association (NATA).