Protecting your Chest Protector!
Dec 28th, 2012
Getting the most life out of your equipment means a little maintenance and care along the way. You invest financially in your gear and if you invest a little care too - you can make it last. We asked our facebook fans for their best advice on caring for and extending the life of their equipment.

Roger Boyington - I clean every after the game so I am ready for the next one.

Scott Jones - Water and lysol for shin guards and protector

Steve Dandy - Immediately clean your equipment when you are done for the day/night.

Manuel Vigil - Wipe it down with a clean towel or rag after every game.

Mike Yvanauskas - Wipe it down after the game and spray Febreze on it.

Gregg Ziliani - DEFINITELY Lysol after every game on all the equipment.

Amanda Berry - Wipe it down after the game and keep it organzied neatly in your bag.

Greg Williams - Wipe it down right after every game.

Chris Long - Baby wipes

So you there you go - from our Facebook "experts" - tips on how to keep your gear not only looking and smelling good but also lasting several seasons.


Related Articles
About the Author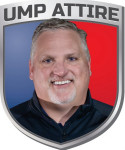 President Jim Kirk
Jim is a leading expert, educator and author on umpire gear, safety & appearance. After playing baseball at Centre College, he worked as a high school umpire. He became involved in E-Commerce while working on an MBA in the early 2000s and bought Ump-Attire.com in 2006, He eventually led it to the leading umpire gear & attire retailer worldwide, a "Best Places to Work in Louisville" honor in 2020 & 2021 and a National Association of Sports Officials (NASO) Preferred Vendor. He maintained a long-standing relationship with Minor League Baseball Umpire Development & Training Academy for 10 years. He serves as an adviser to UMPS CARE Charities, the charity of MLB umpires, served as a 2-term board of director from 2012-2018, and was named their 2015 Ambassador Award recipient. A supporter since the inception of the Wounded Warrior Umpire Academy, he was named to their Board of Directors in 2020.