Our Football Photo Shoot Model Finally Earns White Hat
Sep 21st, 2012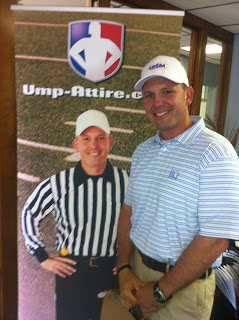 When Louisville-based College and High School Official Todd Skaggs helped us out with a photo shoot last year, the shot we used for marketing had Todd wearing a white hat.
Problem was Todd was not a white hat official. For that, the received quite a bit of good-natured ribbing from his colleagues.
This year, Todd is now the white hat on a Kentucky High School crew and was in to grab his KHSAA embroidered cap. We couldn't resist having Todd take a photo next to his likeness. Congrats to Todd on the promotion.
Related Articles
About the Author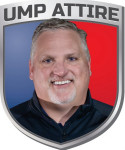 President Jim Kirk
Jim is a leading expert, educator and author on umpire gear, safety & appearance. After playing baseball at Centre College, he worked as a high school umpire. He became involved in E-Commerce while working on an MBA in the early 2000s and bought Ump-Attire.com in 2006, He eventually led it to the leading umpire gear & attire retailer worldwide, a "Best Places to Work in Louisville" honor in 2020 & 2021 and a National Association of Sports Officials (NASO) Preferred Vendor. He maintained a long-standing relationship with Minor League Baseball Umpire Development & Training Academy for 10 years. He serves as an adviser to UMPS CARE Charities, the charity of MLB umpires, served as a 2-term board of director from 2012-2018, and was named their 2015 Ambassador Award recipient. A supporter since the inception of the Wounded Warrior Umpire Academy, he was named to their Board of Directors in 2020.