Black Foul Weather Pants Reviewed by Todd Skaggs
Sep 19th, 2010
Black NFL-style style foul weather pants are new this year for college and high school football officials These uniform items were introduced at the professional level two years ago and have been approved by the NCAA and NFHS for wear in the 2010 season. Football officials I know in other conferences and associations are rapidly adopting this new uniform item and it should make a widespread appearance on football fields across the nation this season. The pants are to be worn only with long sleeve striped referee shirts but I suggest checking with your local conference or association for specific uniform guidelines. The following is a review of the pants I received from Ump-Attire.com.
Material
These pants are manufactured by Smitty. The Smitty Comfortech 100 water-resistant material is a 97% polyester, 3% spandex blend. Normal wash procedures recommended. Don't dry clean, don't iron. The material is very soft and supple to touch with a smooth exterior finish. The black foul weather pants are much closer to a common pair of dress slacks in terms of touch and feel than compared to our traditional knickers.
Construction
The pants are made with a permanent crease and a 1-1/4″ white high-visibility stripe down the outside of each leg. The 3″ Sansabelt style waistband will be familiar to basketball officials and provides a nice slimming effect when sized appropriately. Two button snaps and a heavy duty zipper fasten the pants. 3″ wide belt loops complete the waistband construction. The pants are equipped with 4 pockets: 2 – front slash pockets and 2 – back inset pockets. The back left pocket has a button flap. Note the back right pocket comes sewn shut much like a sports jacket pocket. You will need to take measures to open this pocket prior to wearing them as some officials like to store an extra flag in the back pocket. All pockets were nice and deep providing ample storage space for gear.
Fit
At the recommendation of Ump-Attire's owner, Jim Kirk*; I ordered a size above my normal pants size. These pants do tend to run a bit small. The size up approach will allow for layering in cold weather. I like to wear cold weather tights under my pants in the winter months and a size larger will provide comfort and room for additional layers. The pants come in a 38 UNHEMMED length. You will need to pay a visit to your local tailor or your grandmother to get these pants hemmed to proper length. Make sure you take your cleats with you when doing so in order to get the proper finished length measurement.
Overall
The pants fit well and felt even better. I believe they provide a nice, clean look and are a great addition to our current uniform. The cut and fit provide room for athletic movement and I believe they will perform well in any officiating situation or circumstance. The water resistant material is beneficial during cold rainy environments and the black color might save a few pairs of knickers from being retired as "mudders" due to irremovable stains that we all know and love.
I'm looking forward to the first opportunity to don these new pants this season.
Note: Please be aware that Smitty has just increased the size of the pants so that sizing up is now unnecessary.
Related Articles
About the Author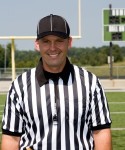 Profootballreferee.com Todd Skaggs
Todd is an author of two officiating books, publishes profootballreferee.com and has been officiating high school football for over 10 years. He is currently in his 4th year as a college official in the Division II West Virgina Intercollegiate Athletic Conference.