Smitty Major League Replica Long Sleeve Umpire Shirt - Sky Blue with Black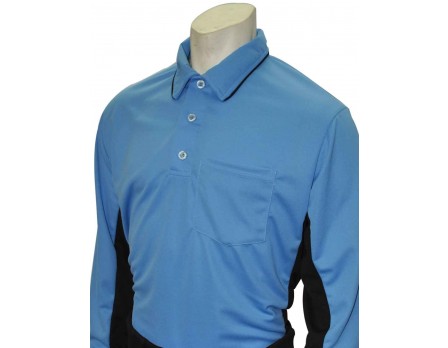 Hover for
larger image
Official Reviews
August 24, 2020
So I wore this umpire shirt once so far last weekend, which shouldn't be enough to form an opinion on this. However, it was a horribly hot and humid day (110 degrees 30% humidity) so it was experienced in the most extreme condition. Why long sleeves in this weather? Sweat. I typically wear a tight-fitting type undershirt to manage sweat running down my arms & getting on everything. Decided to cut down 1 layer of shirt & try the long sleeve option. I thought I was going to die. I have never been so hot in an umpire shirt in my life. It was a 5 game day and I shed that thing after the 2nd game. I see a lot of complaints about the collar, the collar becomes much worse when it's sweaty. The material is also different than the short sleeve shirt. Probably my fault but I thought it would be the same. Just giving you my experience if you were considering it, don't. Re-evaluate the product in cooler weather. Back to an undershirt option for me instead.
October 25, 2019
Looks great, fits great with chest protector on. Don't need to size up.
October 29, 2018
Nice looking umpire shirt, real sharp at night.
Questions About This Product
Be the first to ask a question about this product!
Articles Related To This Product
This is the sky blue umpire gear you see worn on MLB fields for Father's Day Weekend. We are proud to be the only retailer with these limited edition items.
The Smitty V2 Umpire Shirt has multiple upgrades including collar, sleeves, side panels, tail and fabric.
Jim gives the scoop on umpire plate coats: why umpires are moving away from them in baseball and what most veterans do instead.