Umpire Shirts Buying, Sizing & Care Guide
Jun 29th, 2022
The right umpire shirts to wear are those your association or league tells you to wear. If there are no guidelines, you should always match the color and style of your crew.
Contents: Side Panels | Vertical Stripe | Traditional | Colors | Cooler Weather | Sizing
The best umpire shirts on the market today are the side panel Major League & replica shirts. This style of shirt was first worn by Major League umpires in 2016. They are available in 3 colors:
Black with grey side panel/trim
Sky blue with black side panel/trim
The side panel shirts here are made now by only 1 manufacturers, Smitty. Majestic no longer makes umpire shirts.
Smitty's V2 Body Flex version was a significant improvement over their V1, especially in the collar, and now matches the quality of the Majestic at a lesser price.
Smitty has high-quality long sleeve options in both black & grey and sky blue & black. The short-sleeve grey with black side panel/trim popular on the west coast is only available from Smitty.
Most college conferences began wearing the side panel as of 2018. MiLB umpires began wearing the Smitty side panel shirts in 2020.
NCAA Softball umpires in 2022 will be wearing Smitty V2 Body Flex Shirts in a new Bright Blue or Midnight Navy with side panels. Click here to see the full selection.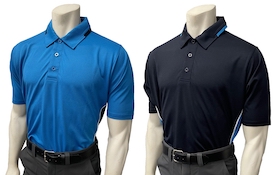 Smitty, in their version 1 shirt, has the following:
The vertical stripe umpire shirts are known for their thin stripe going up the sides of each shirt and halfway around the bottom of both sleeves.
This is the version that the Major Leagues wore up through the 2014 season. Several college conferences continue to wear this shirt. MiLB umpires wore this shirt through 2019.
Colors of short and long sleeve vertical stripe shirts are limited to black and powder blue.
We call these traditional because these shirts have been on the market the longest and continue to be worn by many youth leagues and high school associations.
These shirts have the most color combinations and have the best value given their lower price point.
These umpire shirts are available as a long sleeve in black, navy and powder blue if prefered over a jacket when working the plate.
SHIRT COLORS BEST PRACTICES
Black for baseball and navy for softball are a starting point for any umpire. Black and navy are the most slimming colors.

The light blue colors - such as sky, powder or polo - are a must for summer or hotter temperatures for both baseball and softball.

Cream or white shirts are also popular for travel and/or summer recreational leagues.

Red umpire shirts are typically reserved only for softball umpires.

Pink shirts are often worn around Mother's Day and during Breast Cancer Awareness Month in October.
Umpire shirts & cooler weather

For the plate, long sleeve umpire shirts are the traditional choice in cooler and/or windy weather. Layer up well when colder.
Some may disagree, but if it's just too cold for a long sleeve, it is acceptable to wear an umpire jacket on the plate.
Wear an umpire jacket on the bases, not a long sleeve shirt, when the weather justifies more than a short sleeve shirt.
Sizing Your Umpire Shirts
Umpire shirts are sized for the plate so your chest protector fits underneath. Size down for the base.
For instance, if you are a men's size large polo or t-shirt, wear a large shirt for the plate and a medium for the bases. Note also, you can trust the sizing of both brands.
Some fit umpires like a tight-fitting umpire shirt by sizing down if in between sizes. This practice is perfectly acceptable for the bases. However, avoid sizing down for the plate. Give your shirt the room it needs to prevent over-stretching on your chest protector's hard plastic and metal buckles. Otherwise, this adds undue stress to your shirt's performance fabric that can damage your shirt, especially as you put it on over your chest protector.

See more about sizing umpire shirts in our Fitting Room.
Umpire Shirt Length
If you are a tall umpire and are looking for a shirt with an extended tail, there is no need to worry. Longer length is built into umpire shirts from Majestic and Smitty so that there is less chance of your shirt coming untucked.
Umpire Shirt Care
Umpire shirts are made to be durable with proper care.
Machine wash cold so colors have less chance of fading. Then hang dry. The performance materials in modern day umpire shirts will dry quickly by itself and allow you to avoid the dryer. The dryer's heat can damage shirts and their moisture wicking treatment.
Additional best practices include:
Turning your shirt inside out during washing.
Not washing your shirt(s) with other items that can damage it/them, especially Velcro.
Check your umpire mask for exposed Velcro from your pads. Exposed Velcro, when you place/remove your mask under your arm, can pull at your shirt's performance fabric.
Not snagging your shirt in your pants zipper.
See above on sizing. Proper sizing, especially on the plate is an essential part of your shirt's care.
Follow these best practices for a longer shirt life.
Matching Your Compression shirt

Years ago, the best practice was to wear the color undershirt of your outermost trim. That resulted in contrast between umpire shirt and undershirt - say a red undershirt being worn with a predominantly navy umpire shirt. That practice has changed.
For your compression shirt, stick to black or navy. On predominantly black umpire shirts or any shirts with black trim, wear a black compression shirt. Go with navy on predominantly navy umpire shirts or any with a navy trim.
A WORD ON TAILORING
College level and pro umpires often spend extra money on tailoring their umpire shirts for the best look. Typical enhancements include tapering the sleeves and the sides.

All umpires, men and women, could benefit from tailoring, but it's up to you and your umpiring goals on whether this is worth the extra expense.
YOUR INPUT
Was this umpire shirt buying guide helpful? Comment below with any suggestions to improve it.
About the Author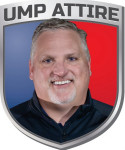 President Jim Kirk
Jim is a leading expert, educator and author on umpire gear, safety & appearance. After playing baseball at Centre College, he worked as a high school umpire. He became involved in E-Commerce while working on an MBA in the early 2000s and bought Ump-Attire.com in 2006, He eventually led it to the leading umpire gear & attire retailer worldwide, a "Best Places to Work in Louisville" honor in 2020 & 2021 and a National Association of Sports Officials (NASO) Preferred Vendor. He maintained a long-standing relationship with Minor League Baseball Umpire Development & Training Academy for 10 years. He serves as an adviser to UMPS CARE Charities, the charity of MLB umpires, served as a 2-term board of director from 2012-2018, and was named their 2015 Ambassador Award recipient. A supporter since the inception of the Wounded Warrior Umpire Academy, he was named to their Board of Directors in 2020.