Umpire Plate Coats: Why Veterans Wear Long Sleeve Shirts and Jackets Instead
Oct 29th, 2018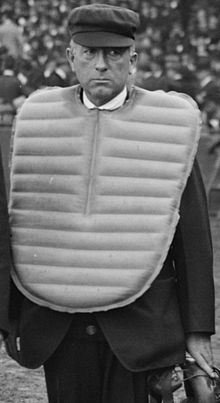 As the game of baseball has evolved, so has the umpire uniform. Gone are the old days of ties and balloon (outside) chest protectors.
Also, fewer umpires in the modern game of baseball are wearing plate coats (what some call suit coats or blazers). MLB umpires wear them less and less, even in the World Series where you may have seen them most often. They are not worn at the Minor League level.
Why Umpires Are moving away from Plate Coats
1
. There isn't a big market.
In the major DI conferences for 2018, there was only 1 plate coat wearer of the bunch. At one point, the main manufacturer of plate coats made only 24 total in a year - that includes ones for umpires in the major leagues who get them for free.
2. They are expensive.
On the one hand, while amateur umpires tell us they'd like one, with the $250+ price tag, they say they would rather buy new umpire gear instead.
3. THEY TAKE TOO LONG TO RECEIVE.
As they were made custom, one competitor once listed completion in 12 weeks. Who wants to wait that long?
4. THEY ARE DIFFICULT TO PACK
Major league umpires that I know would not spend $250 on a plate coat if they had to lug it around themselves.
5. They are dry clean only.
Another expense and headache, that if you are like me with my busy schedule, you don't need.
6. it doesn't Meet the Criteria of Modern Umpire Apparel.
Today's umpire apparel should provide the best mix of athleticism and authority. While you might think the plate coat achieves the authority part, a worn, exposed chest protector may defeat that objective. It also does not achieve a high score in athleticism in 2 and 3-man systems where amateur umpires work most. You wouldn't wear your sportcoat at the gym. Why would you wear a plate coat on the field?
INSTEAD OF PLATE COATS
Here is what veteran umpires do behind-the-plate in the modern game when it is cold.
When Cool


WHEN COLD


Tuckable Umpire Jacket (Open Bottom / No Elastic)
WHEN REALY COLD


Fleece-lined Umpire Jackets.

Yes, there is no rule against wearing these heavier weight jackets when it is really cold, even if you can't easily tuck them. At least, they are low-profile. Besides, you can't tuck a plate coat either.
Overall, jackets and long sleeve shirts are less expensive, more readily available, easier to pack, washable and more athletic.
Related Articles
About the Author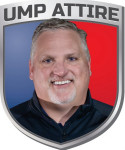 President Jim Kirk
Jim is a leading expert, educator and author on umpire gear, safety & appearance. After playing baseball at Centre College, he worked as a high school umpire. He became involved in E-Commerce while working on an MBA in the early 2000s and bought Ump-Attire.com in 2006, He eventually led it to the leading umpire gear & attire retailer worldwide, a "Best Places to Work in Louisville" honor in 2020 & 2021 and a National Association of Sports Officials (NASO) Preferred Vendor. He maintained a long-standing relationship with Minor League Baseball Umpire Development & Training Academy for 10 years. He serves as an adviser to UMPS CARE Charities, the charity of MLB umpires, served as a 2-term board of director from 2012-2018, and was named their 2015 Ambassador Award recipient. A supporter since the inception of the Wounded Warrior Umpire Academy, he was named to their Board of Directors in 2020.