The UmpRoller 3000 Hoverboard Now Available on a Field Near You
Apr 1st, 2016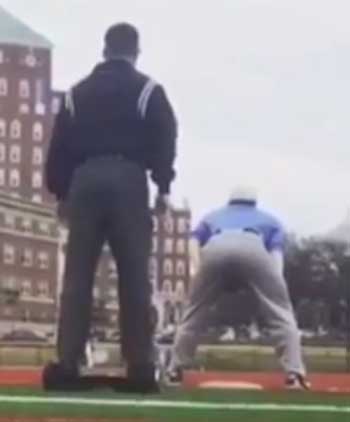 Not since the change from a balloon to an inside chest protector, has there been such a revolution in equipment to make umpiring easier.
In conjunction with professional umpire associations, who spearheaded this project, we are excited to roll out a new standard for umpires: the UmpRoller 3000 Hoverboard, exclusively at Ump-Attire.com.
This is not some toy kids expect at Christmas time. No, this revolutionary product was designed with umpires in mind and has been undergoing numerous revisions to get - like your calls - just right!
A hoverboard will transform the way you umpire. Never will you have to bend down or move your legs again. Your knees will thank you.
How it Works
Postion both feet on the hoverboard. Lean in the direction of the play. The hoverboard will magically move with the shift of your weight. Lean back to stop the hoverboard when you have the perfect angle and distance. Then make your call. It's that simple!
Imagine a punch-out on a bang-bang play, then effortlessly wheeling yourself back to position as you wave to an adoring crowd who is cheering your excellent call.
Features
Don't buy just any hoverboard. The UmpRoller 3000 has features just for umpires.

First, it works with built-in GPS and Google Earth that maps out all baseball and softball fields in conjunction with easy-tap buttons you can click with your feet to move you into A, B, C or D (for 3 and 4-man) position. Need to be in A? Tap A and the UmpRoller 3000 transports you there. Great for umpires-in-training and veterans alike.
Second, are you worried about field conditions or getting your new New Balance base shoes dirty? Don't be. The UmpRoller3000 comes with all-terrain tires and optional snow chains for the early season in northern states and Canada. Besides, your feet will never touch the ground, and you'll never have to clean your shoes again. Amazing!
(Disclaimer: not responsible for electric shock when it's raining. If it's raining, just call the game already and go home. You already got paid!)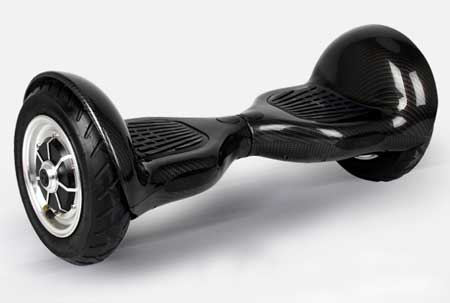 Rules changes
Working in collaboration with rules-governing bodies at all levels, there have been just 3 rule changes to easily cover hoverboard use by umpires:
Rule 2.3c: A hoverboard, like the umpire, is part of the field and considered in-play. (simple enough)

Rule 31.3b: Should a ball get stuck under a hoverboard, the umpire will declare a ground rule double. (there shouldn't be any controversy over that one)

Point of emphasis: In an infield fly situation, the umpire should call "Infield fly, if fair, and if it doesn't get stuck under the hoverboard". (easy to remember)
What customers have to say:
Mark Knopfler, Tombstone, AZ
"I'm not real graceful with my pivots. But with the UmpRoller 3000, now they're a breeze! Players used to laugh at me, but now they just say 'You look like a ballerina blue'. That is a compliment, right?"
Rick James, Columbus, Ohio
"My son wanted a hoverboard for Christmas, but I read a rumor floating around on Umpire-Empire.com this product was coming out. So I waited, then bought one for me as a tax write-off, and he can ride it when I'm not umpiring. What a great two-fer!"
Jimmy Buffet, Mechanicsville, PA
"One paricular coach at a local high school likes to intimidate me every time I umpire over there. I think it's because I'm shorter than he is. Well, not anymore. With the UmpRoller 3000, "WHO'S TALLER NOW COACH?!!!"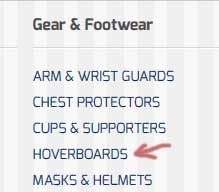 Get yours today! Find the new "Hoverboards" Category under "Baseball" then "Gear and Footwear". Available in all-black, black with some-white-but-not-too-much-white-to-cause-any-controversy and camo.
Disclaimers
Special thanks goes out to our brave test dummies who sustained injuries due to involuntary and/or excessive acceleration. Always know that you helped blaze the trail for others as we perfected this transformational product. Speaking of "blaze", re-charging your hoverboard might not work the way you intended.
Related Articles
About the Author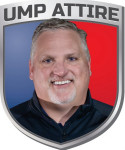 President Jim Kirk
Jim is a leading expert, educator and author on umpire gear, safety & appearance. After playing baseball at Centre College, he worked as a high school umpire. He became involved in E-Commerce while working on an MBA in the early 2000s and bought Ump-Attire.com in 2006, He eventually led it to the leading umpire gear & attire retailer worldwide, a "Best Places to Work in Louisville" honor in 2020 & 2021 and a National Association of Sports Officials (NASO) Preferred Vendor. He maintained a long-standing relationship with Minor League Baseball Umpire Development & Training Academy for 10 years. He serves as an adviser to UMPS CARE Charities, the charity of MLB umpires, served as a 2-term board of director from 2012-2018, and was named their 2015 Ambassador Award recipient. A supporter since the inception of the Wounded Warrior Umpire Academy, he was named to their Board of Directors in 2020.