Jim is Named to UMPS CARE Charities Board of Directors
Jul 10th, 2012
UMPS CARE Charities was established by (MLB) umpires to provide financial, in-kind and emotional support for America's youth and families in need.

Recent additions to the board are James Bowman, Joe Cunningham and Ump-Attire.com President/CEO Jim Kirk.

About the board appointment, Jim said,
"I am a big believer that everyone can make a difference in the lives of others. Who people are, where they are located, and what profession they are in, all provides unique opportunities to make a difference.
UMPS CARE Charities provides an opportunity for the umpiring profession, a profession that often has a negative persona, to show a positive, human side. I believe it's the positive side that is closer to reality.
I look forward to supporting that and the inspiration that UMPS Care Charities provides for umpire associations at all levels to become more involved in charities locally."
Samuel Dearth, executive director of UMPS CARE Charities said,
"Ump-Attire.com has been, and continues to be, a significant supporter of UMPS CARE Charities youth programs. Jim is often the first person to sponsor charitable fundraising events, promote programs with the umpiring community, and actively participate alongside Major League Baseball umpires in hosting Build-A-Bear Workshops at children's hospitals each year.
Jim's appointment to the UMPS CARE Charities Board of Directors demonstrates his continued commitment to community and MLB Umpires are proud that he will help further the UMPS CARE mission."
For more information about UMPS CARE Charities, visit www.umpscare.com.


Related Articles
About the Author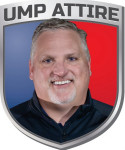 President Jim Kirk
Jim is a leading expert, educator and author on umpire gear, safety & appearance. After playing baseball at Centre College, he worked as a high school umpire. He became involved in E-Commerce while working on an MBA in the early 2000s and bought Ump-Attire.com in 2006, He eventually led it to the leading umpire gear & attire retailer worldwide, a "Best Places to Work in Louisville" honor in 2020 & 2021 and a National Association of Sports Officials (NASO) Preferred Vendor. He maintained a long-standing relationship with Minor League Baseball Umpire Development & Training Academy for 10 years. He serves as an adviser to UMPS CARE Charities, the charity of MLB umpires, served as a 2-term board of director from 2012-2018, and was named their 2015 Ambassador Award recipient. A supporter since the inception of the Wounded Warrior Umpire Academy, he was named to their Board of Directors in 2020.