All Star 4-Dial Die Cast Metal Umpire Indicator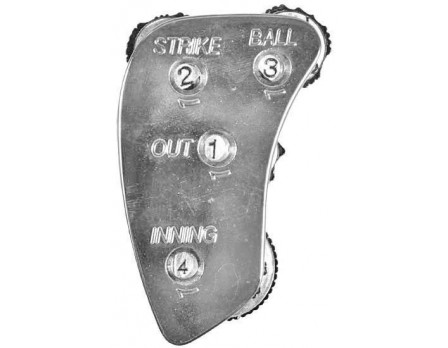 Hover for
larger image
Customer Reviews
Average:
I read all the bad reviews, all of them complained about the weight of the indicator, this was not an issue for me at all. I'm a bit disappointed, I should have noticed it myself, but when reading the Indicator from left to right it says Strike then Ball. I would have preferred that it would be like my old indicator where it is Ball then Strike. And you know... because we say "3 Balls, 2 Strikes." NOT, 2 Strikes, 3 Balls.
My favorite indicator so far! I had a bad habit of looking at my indicator too much until I found this one. I learned the pattern of the notches in the first inning that I used this indicator and now I don't look down at it at all! Don't let that habit be what an evaluator dings you on... get this and you won't have to worry about it
If you like a MANLY Indicator, this is the one for you. It took me a few games to get use to the weight. I like the 2 strike, 3 ball, 2 out. A lot less clicking. The price is quite a bit more, but well worth it if you do a lot of games. Scratch up the shiny surface with a wire brush to reduce sun glare during day games.
I have two of these indicators, and they are the best-made indicators I've ever owned in over 20 years. Very solid in the hand, very durable, these indicators can take a beating. Frankly, I don't place much stock in the complaints about the weight, because while they're heavier than a plastic or aluminum indicator, you're not carrying a brick out there. Buy one of these, and you'll never have to buy another indicator again. One downside to this indicator is that the dials and the casing are both metal, which makes the wheels difficult to turn out of the box. I unscrewed the back (another bonus), took some CLP (lubricant for gun parts) and easily fixed it. The wheels now spin easily. The other downside to this indicator is that the notch the ball wheel is very pointy. Anytime there's a 1-ball count, the notch is sticking straight out. I've taken a couple shots to the hand on this count, resulting in the indicator pinching and creating a blood blister. I've learned to adjust how I hold the indicator to prevent this from happening, but it's something to keep in the back of your mind. I do wish All-Star made a "non-notched" option, since frankly, I've never found these notches to be advantageous. However, I consider both of these "downsides" to be very small nits to pick, and I still give this indicator a 4-star rating due to its excellent construction and durability
Toby Colon
Drexel Hill, PA
I love this Indicator. The weight is perfect. I never lose in my bag. Does anyone know if they make a 3 wheel indicator the same die cast? I don't use the innings but I want the weight.