Umpire Indicator Buying Guide
Jun 29th, 2022
Umpire indicators - often mistakenly called counters or clickers, because of their clicking sound while turning - are essential in keeping up with strikes, balls, outs and with some indicators the inning or score as well.
Number of Dials: 3 or 4?
Umpire indicators are always referred to by their number of dials. A 3-dial indicator records strikes, balls and outs while a 4-dial indicator has an extra dial for inning (or score if needed).
Traditionally, the first dial has been for strikes. Newer models often have balls as the first dial. Given that you announce balls first when asked for the count, newer umpires often prefer a "balls-first" indicator (below right) whereas veteran umpires are often used to the "strikes-first" indicator (below left). It's your preference.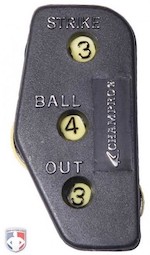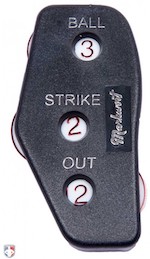 After you determine whether you want 3 dials or 4 and balls-first or strikes first, you're almost home.
From there, some indicators are plastic (above) and some are metal (below). Your choice comes down to a difference of feel. A metal one will feel somewhat heavier, generally be more durable and make your partner more envious. However, metal indicators have smooth surfaces and may slip a little in your hand with sweat. A plastic one has a more textured surface, will be more slip-resistant and is generally more value-priced.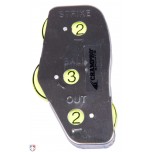 The optic yellow dial indicators (above) have become the most popular in just the last few years and are the easiest-to-read, especially at night, compared to their white-dial counterparts.
OVERSIZED OR SMALL INDICATORS?
Lastly, size may matter. Look for an oversized indicator if you have large hands and/or want it to fit more ergonomically in your hand.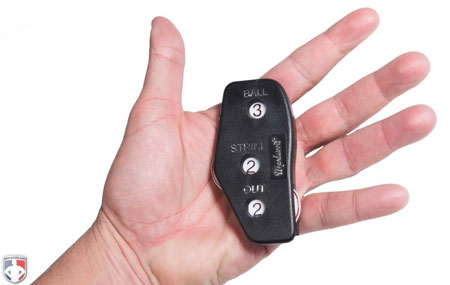 Look for a standard 3-dial indicator if you have smaller hands. As you will be pulling your mask off with the same hand that your indicator is in, a smaller indicator may give you more room to grab your mask - something that might be especially helpful to new umpires. (Hint: all standard size 3-dial indicators are small unless marked "oversized".)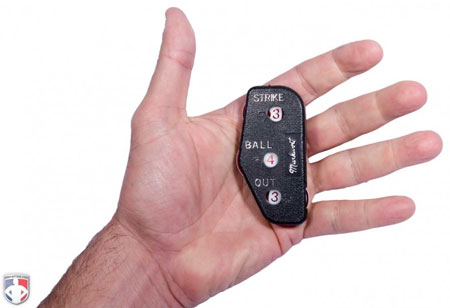 MAX COUNTS PER DIAL
Umpire indicators are listed by count. A 3/2/2 indicator is one that counts (or clicks) up to 3 balls, 2 strikes and 2 outs. A 4/3/3 indicator does so to 4 balls, 3 strikes and 3 outs. Technically, a 3/2/2 indicator is all that is needed considering when one makes it to either 4 balls, 3 strikes or 3 outs, either the at-bat or inning is over and resting on those higher 4, 3 or 3 numbers is not required.
NOTCHED "NO-LOOK" INDICATORS
One umpire indicator, the All-Star Die Cast indicator is sometimes referred to as a "braille" or "no-look" indicator. This indicator is notched differently with each wheel turn so you can feel which number strike, ball and out you are on rather than having to look when referencing the count. Getting used to this indicator takes a little practice, but many umpires swear by it after they do.
Rookies Only
Always hold your indicator in your left hand even if you are right handed. Because you make strike and out calls with your right hand, holding the indicator in your left lessens the chance the indicator "flies" out when you make your call.
Between innings, you can place it in your left pocket or in one of your ball bag's inner pockets.
Generally, an indicator is used for plate work only.
Store your indicator with other accessories such as your plate brush in a separate compartment or bag. Due to its size, it can easily get lost in your umpire equipment bag.
THE BEST INDICATOR
Now that you know the style indicator you want, here are umpires most-popular, highest-reviewed indicators by style:
TOP OVERALL/BEST METAL: Champro 4-Dial with Optic Yellow Dials - 3/2/2
BEST BALLS FIRST: Champro Plastic 4-Dial with Optic Yellow Dials - 3/2/2
BEST OVERSIZED: Markwort Oversized Balls First 3-Dial - 3/2/2
BEST SMALL: Champro 3-Dial Optic Yellow - 4/3/3
BEST NO-LOOK: All-Star Die Cast Metal 4-Dial 3/2/2
Best Practices
Keep a spare or back-up indicator in case you lose one or need to loan one to a partner.
About the Author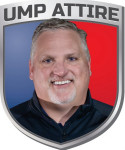 President Jim Kirk
Jim is a leading expert, educator and author on umpire gear, safety & appearance. After playing baseball at Centre College, he worked as a high school umpire. He became involved in E-Commerce while working on an MBA in the early 2000s and bought Ump-Attire.com in 2006, He eventually led it to the leading umpire gear & attire retailer worldwide, a "Best Places to Work in Louisville" honor in 2020 & 2021 and a National Association of Sports Officials (NASO) Preferred Vendor. He maintained a long-standing relationship with Minor League Baseball Umpire Development & Training Academy for 10 years. He serves as an adviser to UMPS CARE Charities, the charity of MLB umpires, served as a 2-term board of director from 2012-2018, and was named their 2015 Ambassador Award recipient. A supporter since the inception of the Wounded Warrior Umpire Academy, he was named to their Board of Directors in 2020.