All-Star 4-Dial Die Cast Metal Umpire Indicator Featured In Referee Magazine
Apr 22nd, 2021
Each month Referee Magazine features a product that is innovative for sports officials.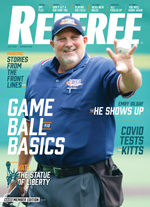 In the July 2020 Issue, Referee Magazine featured the All-Star 4-Dial Die Cast Metal Umpire Indicator - 3/2/2 Count. Referee Magazine said,
"This allows umpires to quickly zero out indicators at the end of each at-bat without having to look down or stare at the hand holding the indicator. Umpires can also use a different notch for number to quickly 'feel' what the count is as opposed to having to look at the indicator. This allows umpires to keep their eyes focused on the field instead of looking away from the action. It also looks more professional."
We were delighted to see this product featured as it is a great addition to your umpire bag. A product that can be deconstructed and maintained for many seasons over.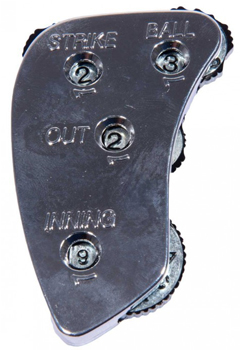 Grab Yours Today!

If you're a subscriber to Referee Magazine, you'll find the complete feature on page 27.

Not a subscriber? We highly recommend it. Sign up today here.

Video
Official 2-Minute Review: All-Star 4-Dial Die Cast Metal Umpire Indicator - 3/2/2 Count
Stop looking at your indicator! Feel what the count is and stay focused on the game with this 4-notched dial indicator!
About the Author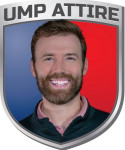 Marketing Specialist, HS & College Umpire Ty Unthank