Markwort 4-Dial Stainless Steel Umpire Indicator - 4/3/3 Count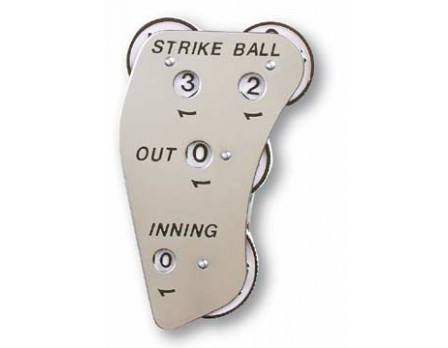 Hover for
larger image
Customer Reviews
Average:
Paul L.
Biloxi, MISSISSIPPI
March 28, 2016
Great umpire indicator. Been using plastic ones for years, but always having to replace every 2-3 years because they fall apart. This one is very durable, easy to use. Well built to last. I would highly recommend this to anyone.
Michael Royal
HARRISONVILLE, MO
March 10, 2016
Bought one in 1997 and it's still clicking. I bought another one as a backup. Only issue is that the wording is gone, but that isn't an issue since the strike/ball location never moves. It's very durable and will outlast and outperform any other metal (and definitely) and plastic indicator made.
February 15, 2016
I have been using this indicator for 16 yrs. It still works and looks just like it did when I first got it. It's very durable yet lightweight. I had to get a new one this year because I loaned mine out and never got it back. Definitely well worth the money! You'll never have to buy another.
February 1, 2016
Best umpire indicator available. Period! Will provide a decade or more of service.
November 17, 2015
I've used this indicator for 7 years plus...I've had others where I dropped them and they exploded. Not so with this brand. I placed some notches in it so I know when I've cleared it, but for your money, nothing is close. Top of the line!