Markwort 4-Dial Stainless Steel Umpire Indicator - 4/3/3 Count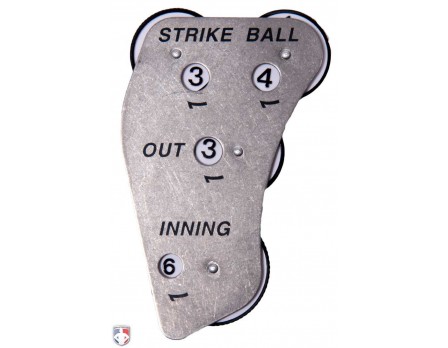 Hover for
larger image
Customer Reviews
Average:
July 28, 2016
A few years ago I was looking for a new indicator after my plastic one had broken and I came across this metal one and I was skeptical about it, but fell in love with it, just another great product from a great company.
July 11, 2016
Very pleased with this steel indicator. Having used plastic ones for years, this is such a big improvement. Thinner and easier to read, especially at night, and just feels so much sturdier. A tip for preserving the lettering that I saw somewhere. Before I even used it in the field, I took some clear nail polish and covered the lettering (staying away from the wheel axes) to keep it from rubbing off. This seems to have done the trick and should help maintain the lettering longer than without the 'coating'.
June 8, 2016
This is a durable product that is easy to use. I prefer this umpire indicator over all others, especially any plastic one.
Paul L.
Biloxi, MISSISSIPPI
March 28, 2016
Great umpire indicator. Been using plastic ones for years, but always having to replace every 2-3 years because they fall apart. This one is very durable, easy to use. Well built to last. I would highly recommend this to anyone.
Michael Royal
HARRISONVILLE, MO
March 10, 2016
Bought one in 1997 and it's still clicking. I bought another one as a backup. Only issue is that the wording is gone, but that isn't an issue since the strike/ball location never moves. It's very durable and will outlast and outperform any other metal (and definitely) and plastic indicator made.
Product Blog Posts
An umpire customer offers a simple tip to keep your indicator looking sharp.