Markwort 4-Dial Stainless Steel Umpire Indicator - 4/3/3 Count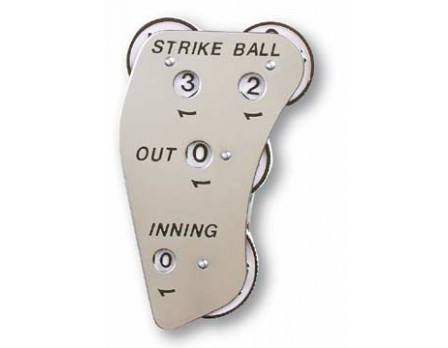 Hover for
larger image
Customer Reviews
Average:
I've used this indicator for 7 years plus...I've had others where I dropped them and they exploded. Not so with this brand. I placed some notches in it so I know when I've cleared it, but for your money, nothing is close. Top of the line!
Bought it brand new for 2015 little league season and worked fine, still clicks good. Negative on it's lettering, is almost gone. I'm going to have to hand-write words on indicator.
Bought my first one of these about 6 years ago. Still using it without any issues. The wheels still lock and click like they should. Get it, you won't be sorry.
I have no idea why any indicator goes to 3 strikes 4 balls and 3 outs. Useless. The indicator itself it very thin and light weight. Would give 5 stars if it went to 3-2-2.
This is a very well-made indicator. I've had it for years and never had a problem. It's sturdy, but very light and fits nicely in your hand. My only complaint is that it's a 4-3-3 model. I've never understood why anyone makes indicators that go to 4 balls and 3 strikes. If they would make this in a 3-2-2 model, I would give it five stars.