Message to the Officiating Community on COVID-19
Mar 17th, 2020
To Our Sports Officials,

As the officiating and world community continues to feel the increased impact of the COVID-19 virus, we wanted to share what we are doing at this unprecedented time to support our #1 priority - YOU & OUR STAFF.
You & Operations
For you, we are fully operational at this time. Our reliable warehouse and order fulfillment departments continue to ship orders and are fully stocked. Our amazing customer service team continues to be ready and available for your needs by email, phone and local pickups. And, of course, our Ump-Attire.com website remains open.
Your Officiating Schedules
We are terribly saddened that many of you have had some to significant amounts of your officiating schedule reduced. We understand this effect has on your incomes and your hearts. We also know many of you are still working or are optimistic about your season starting or restarting in the near future. Therefore, just as we always have, we plan to be here for you now and in the future.
Staff & Health/Safety
For our staff, we are taking every precaution for their health and safety. We are following WHO and CDC guidelines of promoting a healthy work environment through heightening awareness of personal hygiene protection, increasing our internal cleaning/disinfecting efforts, keeping staff home who exhibit symptoms of illness and allowing staff to work from home whenever possible.

We are closely monitoring the ongoing situation, just as you are, and will continue to communicate any updates with you.

Thank you for your continued support, something we never take for granted. Do not hesitate to reach out if we can help you in any way.

Please stay safe and healthy.

- Jim Kirk, President
About the Author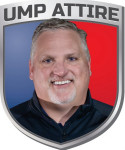 President Jim Kirk
Jim is a leading expert, educator and author on umpire gear, safety & appearance. After playing baseball at Centre College, he worked as a high school umpire. He became involved in E-Commerce while working on an MBA in the early 2000s and bought Ump-Attire.com in 2006, He eventually led it to the leading umpire gear & attire retailer worldwide, a "Best Places to Work in Louisville" honor in 2020 & 2021 and a National Association of Sports Officials (NASO) Preferred Vendor. He maintained a long-standing relationship with Minor League Baseball Umpire Development & Training Academy for 10 years. He serves as an adviser to UMPS CARE Charities, the charity of MLB umpires, served as a 2-term board of director from 2012-2018, and was named their 2015 Ambassador Award recipient. A supporter since the inception of the Wounded Warrior Umpire Academy, he was named to their Board of Directors in 2020.