How to Dress for Spring's Temperature Swings
May 7th, 2013
It's that time of year where Mother Nature can make it difficult for baseball and softball Umpires to do what they love with huge temperature swings from morning to night. We asked our Facebook fans and fellow umpires how they dress and prepare for days when it's cold in the morning, hot during the day and chilly at night again. Here's their advice!
Tommy Owens - Multiple layers with my last layer being my normal weather undershirt for base/soft ball.
Stephen Ward - Plate: Bring multiple undershirts (long or short sleeve)
Bases: umpire jacket and take it off when it gets warm.
Mike Yvanauskas - The new thermal jacket with my lighter one underneath
Buck Bartolik - Everything in the trunk of the car. Go with what the sky tells me when I get to the field.
Michael Keil - Err on the side of warmth. then sweat through it when it gets hot. We are the master of this in Oregon! LOL
Tim Neasham - I dress for the weather at first pitch and gut out the rest of the game if needed... Unless I know nasty weather is coming.
Ken Linder - Mine really doesn't change all that much, only difference is the length of the sleeves if i am wearing a jacket or not.
Ryan Kamowski - Long johns, double socks, gloves to keep the punch outs looking precise!!
Steve Dandy - When in doubt, I dress for cold because once you get cold, you just can't seem to warm up.
Michael Harman - Yup layers peel as necessary
Bruce R Decker - Layers are the key
Paul Whittington - With my jacket with zip off sleeves purchased from Ump-Attire.com!!
There you have it - seems like dressing for the colder weather and using lots of layers is the key!
Related Articles
About the Author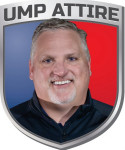 President Jim Kirk
Jim is a leading expert, educator and author on umpire gear, safety & appearance. After playing baseball at Centre College, he worked as a high school umpire. He became involved in E-Commerce while working on an MBA in the early 2000s and bought Ump-Attire.com in 2006, He eventually led it to the leading umpire gear & attire retailer worldwide, a "Best Places to Work in Louisville" honor in 2020 & 2021 and a National Association of Sports Officials (NASO) Preferred Vendor. He maintained a long-standing relationship with Minor League Baseball Umpire Development & Training Academy for 10 years. He serves as an adviser to UMPS CARE Charities, the charity of MLB umpires, served as a 2-term board of director from 2012-2018, and was named their 2015 Ambassador Award recipient. A supporter since the inception of the Wounded Warrior Umpire Academy, he was named to their Board of Directors in 2020.