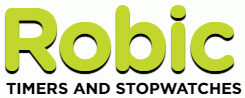 Robic Timers and Stopwatches
Robic has been manufacturing and selling the world's finest handheld timers, stopwatches and pedometers since 1986. In that time, Robic® and Oslo® products have become recognized as the brands of choice for many millions of people seeking the best in quality and reliability for their timing needs.
Read More »
50 Memory Recall + Backlight for Night Games

$39.99

Dual Game Timer with Buttons + LED Display

$34.99

Was $39.99
You save $5.00!