All-Star Large Balls First 3-Dial Plastic Umpire Indicator - 3/2/2 Count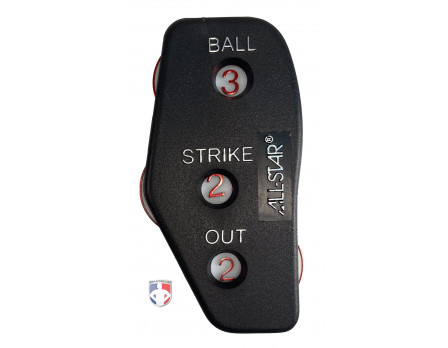 Hover for
larger image
Official Reviews
Robert N.
Corpus Christi, TX
November 28, 2022
Balls and strikes in the order that we announce, makes this the logical choice. No need for ball 4 or strike 3 as you never have your indicator on those. Great item.
April 15, 2022
I was a big +POS guy back in the day and this indicator is as close to the +POS indicator as I have found. The balls on top setup makes more sense to me and this indicator fits me perfectly. I put my indicator back in my pocket after each pitch and I find the positive click allows me to leave it in my pocket and know I hit the turn.
June 29, 2021
By far my favorite umpire indicator. Three wheel, ball on top. Positive click with the roll of the wheel. Inexpensive, but mine have lasted through several seasons and I do A LOT of games. (185 in 2019)
Questions About This Product
Be the first to ask a question about this product!