Umpire Plate Brushes Buying Guide
Jun 29th, 2022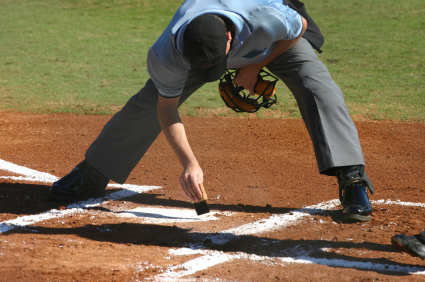 When it comes to umpire plate brushes, simple is best for this standard umpire tool.
An umpire plate brush has 1 job and 1 job only – TO CLEAN OFF HOME PLATE. To do that, it comes with stiff, nylon bristles to easily wipe dust and dirt away from the plate and a sturdy handle to hold onto as you do it.
For this job, nothing else but an umpire plate brush will do. If you are new and think "I'll just use my hand or my shoe", think again. Your hand will just get dirty. Then, you'll want to wipe your dirt on your pants (also a no-no). Your shoe is woefully inadequate and people will look at you funny for you thinking it will work as you kick repeatedly and unsuccessfully at the plate. Look the part. Use a plate brush.
Secondary to its primary function, an umpire plate brush must fit somewhere on you – that means either in your back pocket or in your ball bag. You certainly want it to be large enough to do the job in as few, efficient swipes as possible. But if it is too big to fit anywhere, it is not an umpire plate brush and cannot be used.
(Not Umpire Plate Brushes)


BEST FOR DURABILITY AND TRADITIONAL LOOK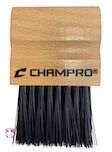 The Wooden Handle Plate Brush
The wooden plate brush is a classic. The style has not changed for some time. As an umpire, you can't swing a wooden baseball bat during the game. However, you can still use some matching hardwood on the field when you use your plate brush with a wooden handle.
The downside of the wooden brush is it does not fit in your back pocket well because of its thicker handle. You can stuff it in there, but if you do, you now have a big bulge on your backside. Plus, when you pull it out, your pocket will likely come out with it.
The only place for your wooden plate brush is in your umpire ball bag. Put it in one of the inside pouches made specifically for accessories. Or put it in the full pouch of your non-dominant ball bag for quicker access if you wear 2 ball bags and keep baseballs and softballs only in the ball bag on your dominant side.

(A wooden handle plate brush fits nicely in a Umpire Ball Bag - Force3 Dry-Lo shown - where it is most accessible.)
BEST FOR BACK POCKET (But also works in your ball bag)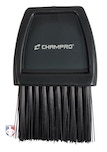 The Plastic Handle Plate Brush
The plastic handle umpire plate brush is sized right to fit anywhere – back pocket or ball bag. The handle is slimmer. It fits in your back pocket much better than its wooden handle counterpart and is easier to pull out if that's where you prefer to keep it.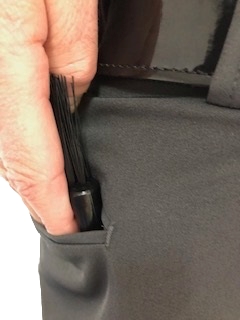 (The slimmer plastic handle plate brush is an easy fit in your back pocket.)
WHERE NOT TO PUT YOUR PLATE BRUSH
While we are on the subject, do not put your plate brush in either your front shirt pocket or one of your front pants pockets. Those are areas you just don't want to get dirty.
Also, whatever you do, do not put your plate brush in any ball bag that has the pockets on the OUTSIDE. Just as there is "no crying in baseball", there are "no pockets on the outside of ball bags in umpiring".
ADVANCED TIPS:
Keep an extra plate brush in your bag in case you lose one or your partner forgets to give you back the one you loaned out when he or she forgot/lost theirs.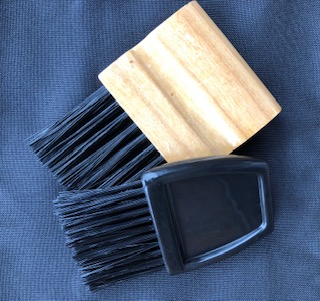 CLEANING: Clean or rinse away any residue from your bristles after each game. This will give your plate brush longer life and prevent "caked-up" dirt/mud before your next game. Considering the wooden handle has a polyurethane coating and the bristles on both are nylon, rinsing with water is perfectly acceptable as long as you dry it afterwards.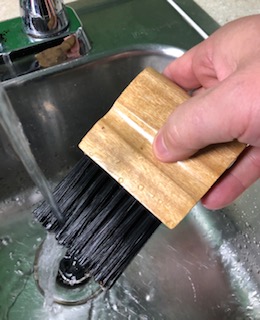 ETC: Consider 3-in-1 umpire brushes that serve multiple roles including bat diameter (for baseball or softball) and scraper for heavier duty caked-on dirt or for mud.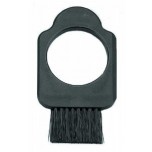 Baseball 3-in-1 Umpire Plate Brush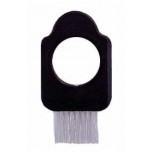 Softball 3-in-1 Umpire Plate Brush
Your call: Wooden handle? Plastic handle? Or both? If you love umpiring, you are probably going to own one of each.
About the Author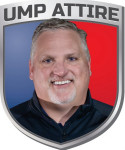 President Jim Kirk
Jim is a leading expert, educator and author on umpire gear, safety & appearance. After playing baseball at Centre College, he worked as a high school umpire. He became involved in E-Commerce while working on an MBA in the early 2000s and bought Ump-Attire.com in 2006, He eventually led it to the leading umpire gear & attire retailer worldwide, a "Best Places to Work in Louisville" honor in 2020 & 2021 and a National Association of Sports Officials (NASO) Preferred Vendor. He maintained a long-standing relationship with Minor League Baseball Umpire Development & Training Academy for 10 years. He serves as an adviser to UMPS CARE Charities, the charity of MLB umpires, served as a 2-term board of director from 2012-2018, and was named their 2015 Ambassador Award recipient. A supporter since the inception of the Wounded Warrior Umpire Academy, he was named to their Board of Directors in 2020.