My Time at The Wounded Warrior Umpire Academy
Jun 29th, 2021
The Wounded Warrior Umpire Academy held its annual 10-day umpire camp June 11-20 in Charlotte, North Carolina. 29 students from all armed services and throughout the country attended the first camp in two years after the 2020 camp was cancelled due to COVID.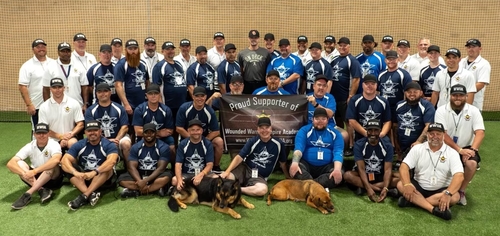 Wounded Warrior Umpire Academy 2021

Our company has supported WWUA since 2014, and this year we had attendance from Jim Kirk, our president who serves on the WWUA board of directors and myself, Brandon Lawson.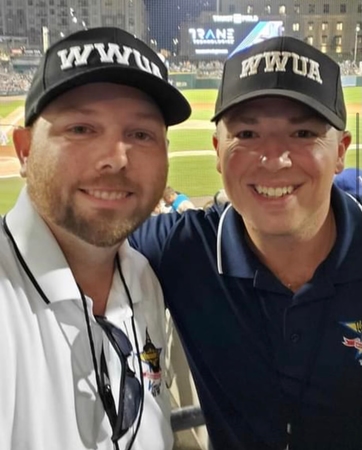 Brandon (left) and Instructor Seth Swanson (right) at the WWUA graduation, held at the Charlotte Knights game.

I am the longest serving staffer at Ump-Attire.com, and this was my first trip to a WWUA camp. I would like to share my background and experience with you.

MY MILITARY HERITAGE
My great-grandfather, Charles Lawson (pictured below) was one of my heroes in life and also an American hero. He served in the Army during WWII and was awarded two bronze stars. I was fortunate enough to have him in my life until he passed away when I was 16. He honestly never really spoke much, but he didn't need to. He was the most kind, loving person ever, yet I'm sure he was someone it would not be a wise choice to mess with and get on his bad side. I always wanted to be just like him and have always lived my life to leave a legacy that would make him very proud of his great grandson for chasing his American dreams and that me following my dreams would make him proud of his service and sacrifice.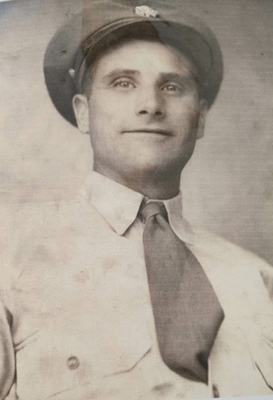 Charles Lawson 1943, CPL Specialist Second Grade, 77th Divison.

My grandfather is a retired air force veteran. My father is an army veteran. The way they each handle themselves with pride and class and the patriotism in them rubbed off on me from a very early age.

I am also an experienced umpire and am a class of 2010 graduate of the Wendelstedt Umpire School. Between my family's military background and my umpiring background, I felt like serving the WWUA was the tailor-made perfect calling for me.

MY EXPERIENCE
I became seriously interested in serving the WWUA in some capacity in summer 2019 and expressed that desire with both Jim and Major Greg Wilson, President of WWUA.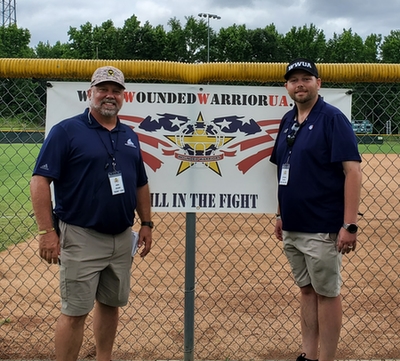 WWUA President Major Greg Wilson (left) and Brandon (right) at WWUA.

I am thankful that with my position at Ump-Attire.com, I was able to do that in 2021. I traveled to Charlotte to represent the company this year where I helped to distribute the donated gear and answer any gear-related questions.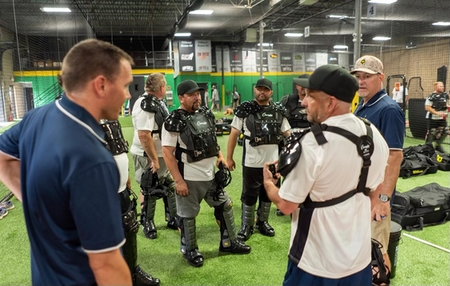 Student umpires receiving their gear.

I certainly did not want to bring any attention onto myself. However, I wanted to make a major impact and show how serious my commitment is to the WWUA, even beyond my position with the company. During field work and drills, I wanted to be there as a source of umpire knowledge as well. I enjoyed every moment of working alongside an amazing staff of instructors who offer A+ quality training to each academy student.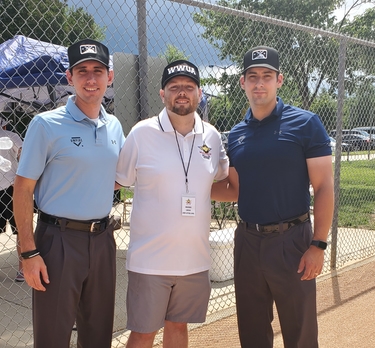 Brandon (center) with MiLB umpires Macon Hammond (left) Zdenda Zidek (right).

After my scheduled first 4 days was complete, I got home and told my wife about my time there and its impact on me, it instantly hit me that I had to go back. The Academy and everyone who is a part of it made such an impact on me in that short time there that I knew my involvement was the start of something special.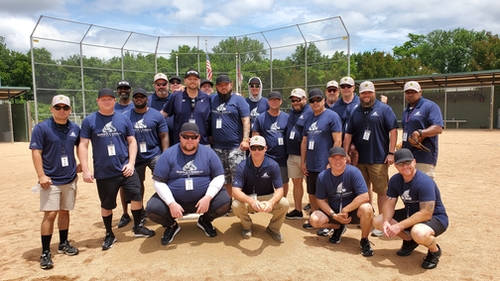 I had a great phone call with Jim to debrief on my time at the camp. I requested to take Friday off and return to show my support for them at their graduation and during live games. Jim generously made it happen, and I am so thankful for my initial time there, and even more thankful that I was able to return.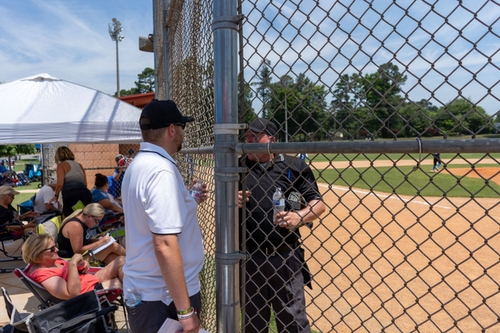 Giving feedback to WWUA student umpires.

My second trip there resulted in making connections with more amazing people and to my surprise, I found myself slotted as an official WWUA instructor my final day at camp. It was like a dream come true for me. I have a deep passion for teaching umpiring and this is exactly where I wanted to do it.

WWUA's imPAct & FAMILY
When you plug into this family, you instantly start to realize there is something going on that is bigger than any of us individually. The WWUA is perhaps the most moving thing that I have been a part of in my life. When you start to understand the impact it has on everyone involved, you realize that this is something truly special.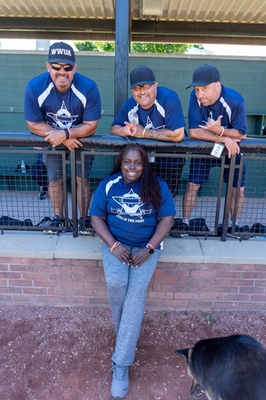 Student umpires catching a breather between training.

Umpiring and baseball are basically the excuse to bring everyone together. This camp is about so much more. It is about making lifelong authentic connections and being a part of an amazing family that all look out for one another. The authentic love and joy that I witnessed during my time at the camp is something truly amazing, and I am thankful I was able to experience it.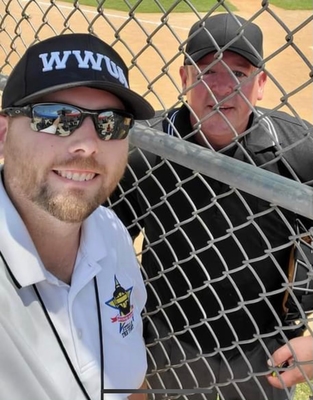 The WWUA truly means everything to everyone who is involved. I personally heard multiple academy students share that being involved with WWUA has helped them find a new calling and purpose in life which has in many cases saved those individual's lives. It is so awesome to witness these heroes find something they are passionate about and to be able to work with them and watch their development on the field and to see them out there improving daily is amazing. It is great to see others with the same passion for learning all the ins and outs of umpiring just like me when I was first learning the profession.



Soaking in the instruction.

Everyone has their own story. Everyone has something they have been through or are currently going through and one thing the academy does is it gives each person involved the resources, the support, and the confidence to be able to overcome anything that may stand in their way.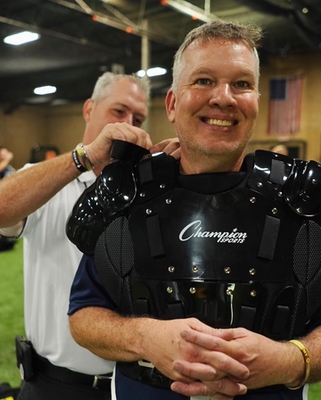 Fitting student umpires with new gear like this Champion chest protector.

It starts at the top with the leadership of Major Greg Wilson and his wife Melanie. They genuinely want to impact and change as many lives as possible through the WWUA. The staff around them is world-class and all have the same mission in mind.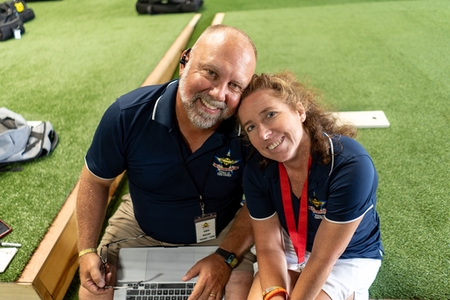 President Major Greg Wilson and wife Melanie.

The WWUA family is for life, even if some may decide to step off the field from umpiring. In my short time among them, I have gained friendships that will last a lifetime. It is an honor to be among whom I would consider to be some of the greatest people walking the earth. The sense of pride and true patriotism is unbelievable to witness.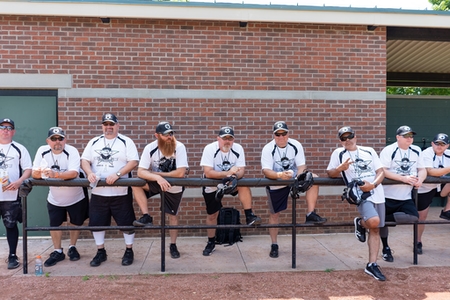 SPONSORS
Thank you to all of our suppliers who partner with Ump-Attire.com each year to provided a full set of new gear for WWUA students.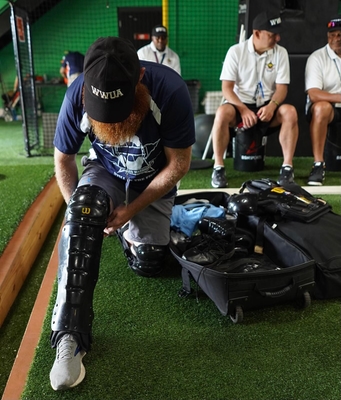 Boston Leather
Champro Sports
Diamond Sports
Force 3 Pro Gear
New Balance
Richardson Cap
Smitty Official's Apparel
Wilson Sporting Goods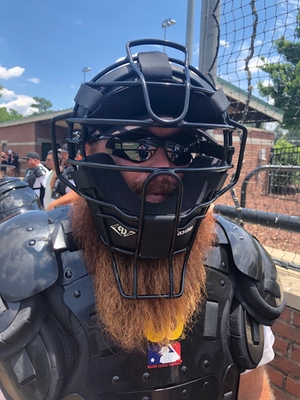 I plan to continue to show my support and commitment both representing Ump-Attire.com and individually. I am truly proud and thankful for such an amazing opportunity to be involved with such a great organization. Thank you to Jim and the entire Ump-Attire.com staff for all you do for WWUA. It is great to be part of a company that does so many great things for so many people.




Learn more
For more information on the about the Wounded Warrior Umpire Academy visit www.woundedwarriorua.org.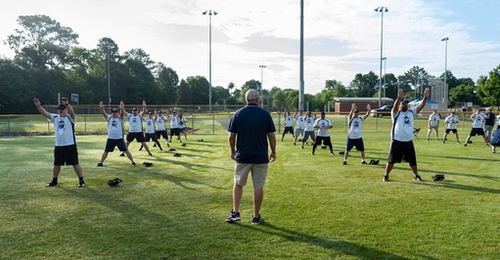 About the Author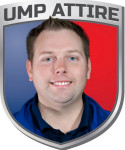 Support Specialist, Pro Umpire School Graduate and Umpire, Football Official & Basketball Referee Brandon Lawson