College Umpire Offers Advancement Advice for College Newbies
May 28th, 2013
Today's post is brought you by Kenneth Fitts. Fitts is an NCAA Division I umpire and contributor to Umpire-Empire.com. Here is his no-nonsense advice on advancing in your umpire career:
"First of all.... I would ask, what are you aspirations and/or personal goals when it comes to college baseball? If your goal was just to make it into college baseball, then congratulations! You did it…try not to piss anyone off and you will be fine.
But…. if you want to work D1 games, join a conference, get assigned a regional, or make it to the CWS? Your journey is just beginning.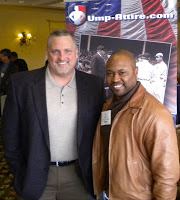 Inventory your look…
Dress like the level in which you are trying to achieve. If you don't have poly wools go out and get some. Make sure you get them tailored properly. Make sure your uniform is "TV-Ready". Keep your shoes shined, pants (and caps) creased, and shirts wrinkle free. Chances are there will be no more parking lot dressing, so make sure you have a gear bag with wheels that you can easily go from car to locker room.
Be prepared to travel a lot your first few years….
Expect to work a lot of Juco, NAIA, and DIII level games your first few years. Work every game with the utmost professionalism. Treat every game like it's the 7th game of the world series. Coaches in these leagues can either jump start or break your career. Unlike high school, these coaches have been hired for the sole purpose of running the baseball program. They are not teachers and they don't care about lesson plans. They care about wins and losses, plain and simple. If you have a good game, they are not afraid to let you know about your work. If you have a bad game they are not afraid to let you and your assigner know about it as well. So work hard, look good, hustle and above all else know the rules!
Find out who the top assigners are in your region…
All of the top D1 conferences in your area will have a conference assigner. Most of these guys will also assign smaller NAIA, DII, DII conferences. Some of these assigners will use these conferences as feeders for the D1 conferences. Get to know these guys. The top Coordinators will usually promote try-out camps and clinics through your local assigner.
Advancement happens in the summer, fall and winter.…
The best way to move and get seen is during the summer and the fall. Find out if there is a college summer league in your area. It will be easier to work with some of the D1 guys during the summer. The D1 guys will have great feedback for what it takes to work at the D1 level. Also if you do well, it can help you get on the radar for getting assigned to some higher level games assigned by your association. Also the summer is usually a more relaxed environment.
Plan to attend a College camp or clinic in the fall…..
Usually these camps are attended by assigners responsible for D1 Non-conference assignments, as well as conference umpire appointment. Most of these camps/clinics will have cage work, rules application, and live games. Same rules apply just as they do in the regular season…. work hard, look good and hustle when it's your turn to shine.
Attend your Local NCAA superclinic….
This will ensure that you are up on all mechanic changes and rule changes for the upcoming season. This is also a great opportunity to network with all of the Top college umpires, assigners, and evaluators in your region. Don't be afraid to talk to and introduce yourself to them. This clinic is also required for post season assignment for all of the NCAA divisions.
Once you complete this in year 1. "Wash, rinse, and repeat."
Related Articles
About the Author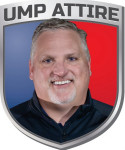 President Jim Kirk
Jim is a leading expert, educator and author on umpire gear, safety & appearance. After playing baseball at Centre College, he worked as a high school umpire. He became involved in E-Commerce while working on an MBA in the early 2000s and bought Ump-Attire.com in 2006, He eventually led it to the leading umpire gear & attire retailer worldwide, a "Best Places to Work in Louisville" honor in 2020 & 2021 and a National Association of Sports Officials (NASO) Preferred Vendor. He maintained a long-standing relationship with Minor League Baseball Umpire Development & Training Academy for 10 years. He serves as an adviser to UMPS CARE Charities, the charity of MLB umpires, served as a 2-term board of director from 2012-2018, and was named their 2015 Ambassador Award recipient. A supporter since the inception of the Wounded Warrior Umpire Academy, he was named to their Board of Directors in 2020.