Champro 36" Umpire Equipment Bag on Wheels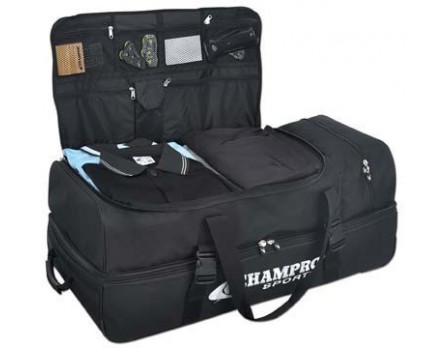 Hover for
larger image
Customer Reviews
Average:
Fits all my needs and more. Lots of space and room for all my gear and still have room for more.
I'm a softball umpire in Australia and I use this bag every week and it has all my umpiring gear for what I need with room to spare.
I work out of two associations in Alaska and also one in the Pacific Northwest that all require different uniforms. Alaska requires navy--2 shirts, long sleeved plate shirt, alt red shirt, regular jacket, and a convertible jacket, all with red undershirts. On the mainland we carry 2-3 black shirts, cream shirt, 2 baby blue shirts, conventional jacket, a convertible jacket, and gray undershirts. I also carry a total of 8 hats and a Tupperware box for ball bags and odds and ends. Add to all that 3 pair of slacks, underwear and socks, and all my protective gear with shoes, and that bag has to be as full as anybody's anywhere. This Champro bag handles all of that gear while taking beating after beating from the airlines, and has for the last 2 years. She's all ready to go for 2015, too. My last Wilson had the main zipper rip out in its' second year. Guys, this Champro bag will do it all for you and will likely last indefinitely.
Got this bag to upgrade from the bag I was using and I have to say I'm impressed with the space and storage capacity. Overall a great bag that I would recommend to anyone looking to get a new equipment/uniform bag.
Being a young umpire, 16, my regular catcher's bag didn't work out for me. This bag is amazing and has plenty of space. Shoe pocket fits my plate shoes perfectly, for when I have to dress and undress in locker rooms. It comes in handy with keeping my gear and my clothes apart, along with the little divider to divide my hats, belts and bags from my clothes. Amazing bag. Plenty of room for gear, accessories and more.
Product Blog Posts
Ump-Attire.com and manufacturers team up to provide umpire gear at the first Wounded Warrior Umpire Camp.
Read More
The first reviews for two new baseball items - Diamond Big League Mask and Champro Gear Bag - and they are overwhelmingly positive.
Read More