Minor League Baseball Umpire Manual / Rulebook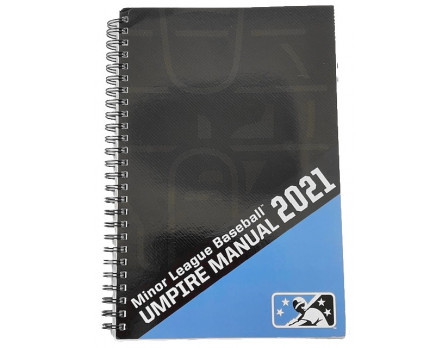 Hover for
larger image
Official Reviews
October 17, 2021
Excellent.
July 21, 2021
The MiLB Umpire Manual is a MUST HAVE supplement to the OBR book. Along with the MiLB Two-Umpire System Manual, these resources are highly valuable to the serious umpire. The text is well written and clarifies the most often asked about rules and oddities that happen once in a great while. I have referred other umpires to sections in this manual when I am asked about applications of technique and rule enforcement. It's an amazing resource! (Pro School Graduate, 2020)
March 11, 2020
I want to write about the experience I had today. I just received in the mail my order from the other day. I know it was by pure mistake - mine or theirs. I received the wrong product and followed up with customer service. I was sure I was going to hear that I ordered the wrong piece. Instead, they had pulled the incorrect piece and shipped it to me. They instantly took care of the issue and put the order in the system for the correct order and started the shipping process. I asked Ty what he wanted me to do with the incorrect order and he stated no worries keep it for the inconvenience this has caused. I am in the customer service industry for my full-time job and I make sure my customers are fully taken care of on every occasion. TY - Thank you for making this a great experience with great customer service. This is the reason I come back every season!!!!
Questions About This Product
Q:
Do you know if I can get the umpire manual but in the Spanish language?
– Carlos Valenzuela
A:
We're sorry, but the PBUC Minor League Baseball Umpire Manual is only offered in English.
– Josh Mann
Pro School Umpire Graduate
Articles Related To This Product
MiLB Umpire Training Academy features staffers Ty Unthank and Jim Kirk in these 2 short, quality-made video clips.
For baseball and softball umpires it's the nature of the game¦ An occasional blown call is going to happen no matter how prepared or engaged you are. Learn the best ways to move on and get back into the game.