Umpire Shin Guards Buying Guide
May 17th, 2014
Warning. Below could be the most comprehensive buying guide on umpire shin guards ever written or the driest. Most likely, it's both. Regardless, reading it should help you choose which shin guard is right for you. This is why you are reading it, right?
Umpire shin guards today do offer greater protection than ever before. The correct name should actually be "leg guards" instead of "shin guards" as all styles provide more than protection to the shins but also to knees, ankles and in some cases to the thigh and foot as well.
Keep reading and we'll look at the specifics.
Most Thigh Protection
If you decided not to wear any leg protection, although not recommended at any level, the best place to get hit is on the thigh. The reason is you have more meat there to cushion the blow. Also, depending on your stance, you're least likely to take a direct blow in that location.
Having said that, you may still want lower thigh protection. That's more than ok. You'll find this additional protection in the topmost "knee" of extended or triple-knee umpire shin guards or in the Champro Hockey Style Shin Guards with an add-on extension (sold seperately)..
The West Vest professional shin guards used by Major League Baseball umpires and the Diamond iX3 model, most popular at youth to high school levels, are the triple knee shin guards that provide this above-the-knee protection.
If you're interested in one of these but still undecided, you might prefer, at upper levels, Wilson's thicker padding and complete hard shell ankle protection. For lower levels, the padding and hard plastic ankle insert of the Diamond iX3 will usually do.
Best for Taller Umpires
While most umpire shin guards come in a range of 15-17" sizes that fit most, the the Wilson Pro and Charcoal shin guards now come in the 18.5-19" range that may fit taller umpires better than other shin guards.

How taller? There's no way to know for sure unless you measure. So get that measuring tape out and read further.
Measuring for Shin Guards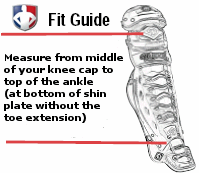 It seems reasonable that umpire shin guards would be measured by their full length from the tip of its top to the tip of its bottom. But that's not the case.
Instead, they are measured by their fit or where they should fit. Where they should fit is from the area where the middle of your knee would go to the bottom of the shin guard without a toe plate.
Out of all umpire protective gear, shin guards are returned more often than masks and chest protectors due to sizing issues.
Normally, 17" shin guards will fit individuals in the 5' 10" to 6' 1" range. However, this is just a general rule. Simply measuring yourself knee-to-foot before ordering will alleviate most potential problems. If in doubt, always go with the larger size as it's better to have more coverage than to be short in this department.
Ok. We're at the half-way mark, and you're still here. Nice job.
Most Comfortable
In double-knee umpire shin guards like the ones seen below, your knee rests on the inside of the topmost "knee" of the shin guard (in a triple knee it rests in the middle one).

The lower knee of a double or lowest of a triple-knee umpire shin guard allows for a natural flex as you bend or run by "floating" over the bottom of the knee above it and the shin area below it. As a result, the floating knees prevent gaps the baseball or softball might find otherwise.
In general, the fewer the knees, the more comfortable and less cumbersome they are than, say, the triple knee varieties.

Single knee shin guards go further in the area of comfort by going strapless around the back of the knee. This negates any concern with over strap irritation behind the knee. The best designs are the DaviShins and the Diamond Featherweight below.
Further considering comfort in a single knee, the Diamond's version weighs in at 1.6lbs (17" size of both guards). This is almost half as much as most other shin guards on the market and almost one-third the weight of our heaviest shin guards.
To recap, we mentioned that the most protective shin guards are the triple knee variety and the most comfortable ones are the single knee variety; so, the more the knees, the more protective but you give something up in comfort; and the fewer the knees, the more comfort, but you give something up in protection.
What's a person to do who wants both? Our highest recommendation for the best of both worlds would be the double-knee design of the Wilson Charcoal. But if you really wanted that strapless design of a single-knee, the All-Star System Seven is your most protective design among the single-knee variety.
Least Strap Irritation
As many of you know, shin guards sometimes like to rub you the wrong way at the back of your knees or calves.

Several of our umpire shin guards attempt to make things more comfortable in these areas through various features. The Diamond Featherweight shin guards have no strap at all at the knee. The Diamond iX3 shin guards has additional padding around the back of the leg to help prevent such rubbing. The All-Star System Seven Guards don't use traditional straps at all and there is no behind-the-knee irritation.
Foot Protection and Plate Shoes
Although some umpire shin guards offer foot protection, they do so poorly. At best, they'll cover only the top half of your foot leaving your toes un-protected without umpire plate shoes. For that reason, we recommend plate shoes at all levels of umpiring including youth levels.
Why risk a broken toe or foot?

Still don't plan to purchase plate shoes? Well you're entitled to be stubborn. In that case, can you get a pair with the "toe" guards to provide you with at least some protection? Good. My apologies for sounding parental.

But if you have a plan to buy plate shoes, that's really what you need. When you do, know that all umpire shin guards' toe guards can be easily detached with Velcro on all styles except the Wilson Pro. The Wilson Pro has to be cut off with a sharp instrument, such a a pair of scissors. Do be careful and no running with scissors in your hand.
Paying for Protection and Comfort
Typically, you'll pay the most for the most protection and comfort. The West Vest professional shin guards are great for that 90+ MPH fastball or foul ball, but probably overkill for youth leagues. The All-Star System Seven is designed with comfort in mind with multiple features including the Patella Plus knee pad and the Delta Flex Strap System.
Want to Know More?
Look at the Customer Choice items that are the most popular, receive the best reviews and are returned less than other shin guards. To date, two shin guards rise to the top there and they are the Wilson Charcoal and the Diamond iX3. (Note: Newest products are not available for Customer Choice consideration).
Each umpire shin guard product page provides detailed information, sizing options, reviews and additional images including shin guards worn front, back and side, something you'll only find here at Ump-Attire.com.

Or try the quicker read Umpire Shin Guards Comparison Chart below.

Lastly, if you have any strength left, read related posts from the Officially Un-Official Blog.
How do I Measure for Shin Guards?
Measure from the center of your kneecap to the bottom of your shin (where the leg meets the top of the foot).
Umpire Shin Guards
Knees
Weight (both)
Ankle Protection
Foot Protection
Other Features
Sizes
(measuring)
Colors
Wilson Professional Shin Guards
3
5.2 - 5.6 lbs
Hard Shell
Yes
Nylon Shell Padding
16-17"
18-19"
Black
Diamond iX3 Shin Guards
3
2.1 - 2.2 lbs
Soft Shell
Yes
(Removable)
Moisture Management
17-18" adjustable
Black/Grey
All-Star System 7 Shin Guards
2
Hard
Yes
(Removable)
Lower Profile, Patella Plus Knee Pad and Delta Flex Harness
17"
18.5"
Black
Wilson Charcoal Shin Guards
2
4.0 lbs
Hard Shell
Yes
(Removable all sizes 2012)
Nylon Shell Padding
15 1/2"
17"
18.5"
Charcoal
Diamond Shin Guards
2
2.4 - 2.8 lbs
Soft Shell
No
15"
17 1/2"
Black
Diamond Featherweight Ump-Lite Shin Guards
1
1.6 lbs
Soft Shell
Yes
(Removable)
Lower Profile, Strapless Knee Design, Tifco Buckles
15"
17"
Black
Champro Basic Shin Guards
1
2.3 lbs
Soft Shell
No
16.5"
Black
About the Author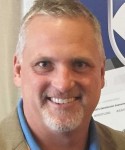 President/CEO of Score 451 Sports, LLC and Ump-Attire.com Jim Kirk
Jim is an avid fan of sports and sports officials everywhere. He is a former high school umpire and college baseball player. He got involved in E-Commerce while working on an MBA and bought Ump-Attire.com in 2006. He serves on the board of directors of UMPS CARE, the charity of MLB umpires, where he was named the 2015 Ambassador Award recipient, coaches youth baseball, was named to his high school's All-Century baseball team and is proud of his company's sponsorship of Minor League Baseball Umpires and Minor League Baseball Umpire Training Academy.