Football Referee Equipment
The Best Selection Of Football Referee Uniforms, Gear, Equipment, Shoes And Apparel For College, High School And Youth.
Easy To Shop With Real-time Inventory, Expected Delivery Dates, A FREE Shipping Offer And FREE No-hassle Returns On Everything* Including Officials' Shirts, Pants, Caps, Whistles, Flags, Bags, Down Indicators And More.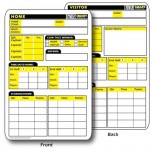 Gerald W., Rineyville, KY
I used the card for the first time last Saturday in a game with a torrential downpour and my writing on the card rubbed off each time I removed it to record info. Also, unlike the other cards there isn't a change of quarter info spot unless you put it in remarks.
Brian M., Hicksville, NY
Very comfortable. Great fit. Have gotten a lot of compliments and inquiries into where I got them. Been a football official for 27 years and can honestly say 'Best referee pants I have ever worn.' I highly recommend these.