Wrestling Referee Equipment
Find Quality Brand-name Wrestling Referee Uniforms, Shoes, Equipment And Apparel.
Ump-Attire.com, The #1 Online Destination For Officials' Sporting Goods, Has Everything You Need Including Shirts, Pants, Jackets, Bags, Flip Disks And Other Attire.

Andrew , Ohio
The shirt fits great. It is long enough so it won't slip out while you're running down the court.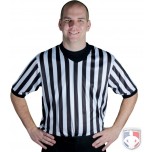 Steve Alvarez, Southeast Louisiana
The white stripes are absolutely the brightest white on any referee shirt I have ever purchased. The shirt is also the lightest shirt in weight I have ever worn and comfortable as well. The fabric is extremely soft in texture and I would recommend it to all officials... I will rate this shirt an A+ or 10 on a scale of 1 to 10. Keep up the good work and thanks for making a top quality referee shirt.