Wrestling Referee Equipment

John W. Page, Jr, Richmond, Virginia
I have been using the Three Tone Electronic Whistle for 2 weeks now and I love it. I get winded at times and this allows me to whistle when I need to. There are 3 things that could be addressed. Of the 3 tones, only 1 is usable on the field #1. It could also be a little louder although all my fellow officials said they could hear it. And, the button has a tendency to stick in the on position at times causing me 'panic' to release it. You have to push it again to get it to stop. Other than that, it is a great idea and tool for officials. I like the fact that you actually have to think before sounding it and therefore preventing some inadvertent whistles. I'd give it a thumbs up.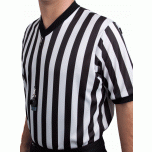 James Stadtmueller , Menasha, Wisconsin
I officiate basketball year-round in nearly 500 games, and the AWB1 shirt is truly more comfortable, looks sharper and fits better than any polyester or mesh shirt I've worn. I have three of the AWB1 shirts now, and have spread the word among my officiating colleagues, too.