Wrestling Referee Equipment
M.Dugan
I'm very happy with it. My knee is more stable and I have less pain.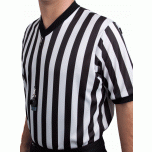 Chris Minor, North Canton, Ohio
The shirt is the best ever, period. In addition the comments regarding the shirt being softer, brighter and has an athletic fit so that you look clean cut and professional while working is dead on.