Wrestling Referee Equipment
Find Quality Brand Uniforms, Shoes, Equipment And Apparel For Wrestling Referees. Ump-Attire.com Carries Everything Wrestling Refs Need, Including Shirts, Pants, Jackets, Bags, Uniforms, Flip Disks Equipment And Attire. Get Equipped Right!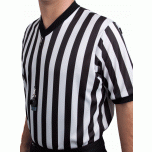 Willie Hoskins
I call at least 75 games a year at both high school and college level. After wearing this shirt one time I have never worn any other kind. When I only had one shirt, I would laundry it every night. I never need to wear an undershirt anymore. The shirt gives and moves with me when I raise my arms and still stays neatly tucked in my pants. Since wearing this shirt I don't even wear a flex belt and I still look as neat at the end of the game as in the beginning.

Ron , Minnesota
The Ultimate Long Sleeve Referee Shirts are definitely the best shirts I've ever worn both in the warm and cold weather. They stretch when you lift your arms over your head, therefore they stay tucked in. I didn't even wear any of my other shirts. I wore these Ultimate shirts exclusively after wearing them one time.