Baseball Umpire Equipment
Find Quality Brand-name Baseball And Softball Umpire Uniforms, Equipment, Shoes And Apparel. Ump-Attire.com, The #1 Online Destination For Officials' Sporting Goods Worldwide, Has Everything You Need - For Any Level Youth, High School, College And MLB - Including Protective Gear, Shirts, Pants, Jackets, Caps And Accessories.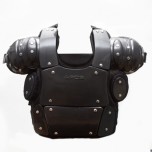 Ken D., Wasilla, AK
Unlike my colleague Tucker, I find this protector to be nicely profiled--not so thick as to be bulky, but thick enough to protect you well. Easy protector to adjust for a great fit and long enough for bigger guys (I'm 6'4). I purchased two protectors for this year and wanted to see which would protect me best, so I had my wife give me a decent shot on both with an aluminum bat, and with this one I really didn't feel a thing. No gaps in plate coverage and numerous cooling channels on the back should make this thing comfortable to wear. I haven't had a game yet but expect this one to do all that I ask from it.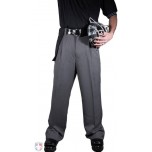 Darin F., Smithville, MO
I purchased these pants a few weeks ago and have had them 25-30 games so far. The fit is very good and they are holding up well so far.