Baseball Umpire Equipment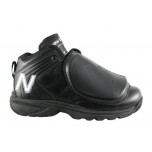 Alan H, Kansas City, Missouri
My new shoes arrived today and the thing I was struck by the most was the fact that they felt like they were as light as regular shoes. I'll get to wear them in a game in about a week, so we'll see how they hold up, but my first impression was "Wow!"

Al Burns, Chesapeake, Va
Outstanding product! Wicks away seat and keeps my legs feeling fresh. Only comment is that I wish the cup pouch was shaped more like the cup to prevent the cup from occasionally turning sideways.