Baseball Umpire Equipment
Find Quality Brand-name Baseball And Softball Umpire Uniforms, Equipment, Shoes And Apparel. Ump-Attire.com, The #1 Online Destination For Officials' Sporting Goods Worldwide, Has Everything You Need - For Any Level Youth, High School, College And MLB - Including Protective Gear, Shirts, Pants, Jackets, Caps And Accessories.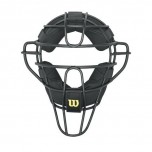 Sean T., GA
Have worn this mask now for two months with Team Wendy pads in. The mask is extremely light and can be worn all day for multiple games with no fatigue, but most of the segments of the mask are misaligned when welded and seems slightly lopsided when looking through it; also since the mask is aluminum, I have taken several hard shots that flattened a bar in one place. This mask is nice and light and I don't regret the purchase, but would probably not buy the same one again if needing another one.

Chuck Knowles, Columbia, South Carolina
Ordered this mask several weeks ago and have given it a good spin. Mask is super light. Was worried about the pads after reading some reviews here, but decided to use it with the stock pads for a fair review. Well, after last night, I can tell you this mask is just fine with the pads it comes with. I took a foul tip, direct shot, middle of the face straight off the bat. Mask took it like a champ and I didn't have to even take a second to "get the cobwebs out". This mask is super-light, easy on and off over the hat, and most assuredly will hold up to anything it gets hit with. Pads are fine and I wouldn't spend the extra money on Wilson's unless that's just a personal preference. By the way, the shipping time was 2 days standard shipping...thanks again ump-attire.