Baseball Umpire Equipment

Steve S., Olive , MS
This shoe is the most comfortable I have ever worn. Doing a game in these is like walking on air! I would recommend this shoe for basketball or baseball.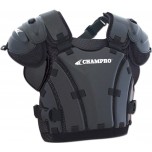 outfield44 , Australia
I also found the chest protector very good albeit it retains a shape of its own, but the bicep extensions are frustrating and restrictive. The extensions are not firmly joined and make putting on an umpire's shirt (even a size larger) almost impossibility without assistance. They also move awkwardly when you return throw to the pitcher. Back to the drawing board with the bicep extensions!