Baseball Umpire Equipment

Larry Barrett, Nashville, TN
I have been using the mask since the beginning of the season. I am really impressed with the view and the weight. I have been doing varsity high school and have taken a couple of direct shots with no ill affect. One of the foul tips was a direct shot to the middle of the mask. The padding on the mask seemed to help absorb the shock along with the deflection from the standard curve. Everyone that I umpire with that has seen the mask is very impressed with it. It is a little more expensive but definitely worth the extra money.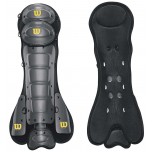 Michael O., Philadelphia, PA
I could not be more pleased with these shin guards. So comfortable and lite yet ultra-protective. I don't feel a thing when I take a shot in the legs. The floating knee is excellent in that it adds great protection yet does not compromise the flexibility of the shin guards. Highly recommended.