Baseball Umpire Equipment
Find Quality Brand-name Baseball And Softball Umpire Uniforms, Equipment, Shoes And Apparel. Ump-Attire.com, The #1 Online Destination For Officials' Sporting Goods Worldwide, Has Everything You Need Including Protective Gear, Shirts, Pants, Jackets, Caps And Accessories.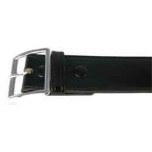 Chris W., Hamilton, 0
Just got this belt to replace my older belt and I love it so far. Overall a great product and looks sharp on the field as well. I recommend this thicker leather belt to anyone looking for a great looking and great feeling product on the field.

Cody T., Cupertino, CA
Perfect for a breezy day. It cuts the chill while on the bases and also looks sharp being worn behind the plate. One down side I must say is the sleeve's arm holes at the end, wish the elastic was a bit stronger and tighter. I find the sleeve when I have the extensions on, creeping up on the backside of my hands sometimes. Other than that, it is a extremely good product to have in my wardrobe.