Baseball Umpire Equipment
Find Quality Brand-name Baseball And Softball Umpire Uniforms, Equipment, Shoes And Apparel. Ump-Attire.com, The #1 Online Destination For Officials' Sporting Goods Worldwide, Has Everything You Need - For Any Level Youth, High School, College And MLB - Including Protective Gear, Shirts, Pants, Jackets, Caps And Accessories.
Greg N., Kaneohe, HI
Mask looks great. I did not like the feel of the padding that it came with. I have already changed the padding to have a more secured feel. Everyone has their own perspective on the feel, these pads were not my liking.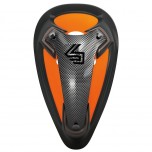 Joshua A. Sauter , Westland, Michigan
I agree with Cedric. My future family thanks this equipment...and so does my equipment. Stopped one in the dirt for me too. Catcher missed completely and I was good after about 15 seconds.