Baseball Umpire Equipment
Find Quality Brand-name Baseball And Softball Umpire Uniforms, Equipment, Shoes And Apparel. Ump-Attire.com, The #1 Online Destination For Officials' Sporting Goods Worldwide, Has Everything You Need - For Any Level Youth, High School, College And MLB - Including Protective Gear, Shirts, Pants, Jackets, Caps And Accessories.

Charles M., Kernersville, NC
Excellent protection, have had several direct hits off foul balls and mask absorbed shock well. Not heavy, easy to work with when you need to take it off and clear vision for those occasions where you don't have time to remove it.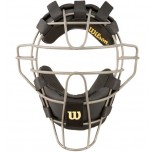 Anthony Ragona
The mask is great! I've worn the mask in both college and high school level games and find the fit and durability to be perfect. I opted for the traditional view mask and it's excellent. The mask is the lightest and sharpest looking I've owned yet!