Baseball Umpire Equipment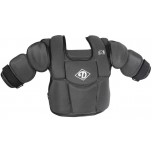 Steve Mackin, New Brunswick, Canada
This is a great, light weight protector and offers very good protection. I have used it in some intermediate baseball games (that's a competitive men's league here with some fella's throwing 75 and 85 miles per hour) and this chest protector has been great. At first, I had some concerns because of the lightness of this protector however, my worries are gone and I know I am safe. Great item at an unbeatable price.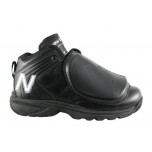 Michael G. Smith , Salem, Oregon
On a whim, I tried these on, and I wasn't giving them back!! My other plate shoes were only 1 year old--no matter. I got the EEEE's, even though I don't measure as having a wide foot. But after 2-3 plates on a Saturday, my feet swell, and the extra width is a blessing. I got the "white N" version, and simply took a fine tip black Sharpie--now they're all shiny black. At a minimum, get the EE's. Your feet will thank you at the end of the day.