Baseball Umpire Equipment
Find Quality Brand-name Baseball And Softball Umpire Uniforms, Equipment, Shoes And Apparel. Ump-Attire.com, The #1 Online Destination For Officials' Sporting Goods Worldwide, Has Everything You Need - For Any Level Youth, High School, College And MLB - Including Protective Gear, Shirts, Pants, Jackets, Caps And Accessories.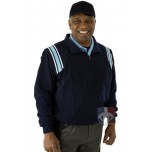 Seferino M., Kingsville, TX
Great fit and roomy umpire jacket.
Gordon Niemann, Auckland, New Zealand
I recently purchased the System Seven Chest Protector in order to replace my outstanding, but old, Wilson Gold CP. After having done numerous games in the All Star CP, here is what I found out: The protection is incredible, and so is comfort, due to pre shaped shells that snuggly fit around the shape of your shoulders and body. Also, it is a great design idea to be able to take the whole thing apart to be able to clean it easily. The biggest drawback I found is as follows: This thing is gigantic and quite heavy. Hardly any one of my Plate Shirts still fit with this monstrosity underneath it. It also is a bit cumbersome when it comes to running around in it. All in all, though, its a worthy trade-off for the protection it provides.