Baseball Umpire Equipment
Find Quality Brand-name Baseball And Softball Umpire Uniforms, Equipment, Shoes And Apparel. Ump-Attire.com, The #1 Online Destination For Officials' Sporting Goods Worldwide, Has Everything You Need - For Any Level Youth, High School, College And MLB - Including Protective Gear, Shirts, Pants, Jackets, Caps And Accessories.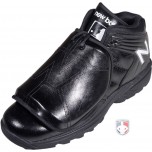 Phil Adler, Lake City, Florida
I LOVE THESE SHOES!!!!. Finally got to wear these last night and they are great. At first my feet felt a little tight in them but by the end of the game you would think you were wearing sneakers. I am so glad I purchased these.

Chuck Stiefken, Highland, California
Glad I found a source for the Dalco shirts. They are the best. Stretch to go over the chest protector and fit like a glove. No more needing help getting a shirt on.