Baseball Umpire Equipment
Find Quality Brand-name Baseball And Softball Umpire Uniforms, Equipment, Shoes And Apparel. Ump-Attire.com, The #1 Online Destination For Officials' Sporting Goods Worldwide, Has Everything You Need - For Any Level Youth, High School, College And MLB - Including Protective Gear, Shirts, Pants, Jackets, Caps And Accessories.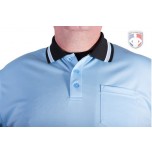 Casey, Indiana
These shirts are great, they are well priced, comfortable and breathe easy on hot summer days. I usually wear a large shirt, but found the medium size to be a better fit over my plate gear.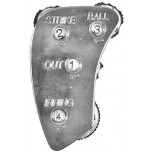 Jesse Devine, South Dakota
Nice indicator. It is very heavy duty and will last forever. The notches are great. It is very nice not having to always look down at it for the count. The only drawbacks are it is too shiny as the sun's reflection will blind you on the afternoon games. But I solved that with a wire brush. Also, I wish it didn't have the innings. I never keep track of them on my indicator, and having only ball, strike, and outs would make it smaller.