Baseball Umpire Equipment
Find The Best Selection Of Name-brand Baseball And Softball Umpire Uniforms, Equipment, Shoes And Apparel At Any Level - Youth, High School, College And MLB.
The #1 Choice Of Umpires Worldwide, We Make It Easy To Shop For Protective Gear, Shirts, Pants, Jackets, Caps And More With The Most Reviews, Real-time Inventory, Expected Delivery Dates, A FREE Shipping Offer And FREE No-hassle Returns On Everything*.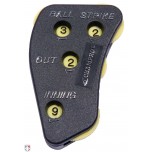 Spencer B., Palm Coast, FL
I prefer the indicator with balls first because it mimicks the way I indicate the count. Numbers with green background are easy to read in all lighting situations. I highly recommend it.
Troy T., Chesterfield, VA
Can't go wrong with these hats!!!!