Baseball Umpire Equipment
Find Quality Brand-name Baseball And Softball Umpire Uniforms, Equipment, Shoes And Apparel. Ump-Attire.com, The #1 Online Destination For Officials' Sporting Goods Worldwide, Has Everything You Need - For Any Level Youth, High School, College And MLB - Including Protective Gear, Shirts, Pants, Jackets, Caps And Accessories.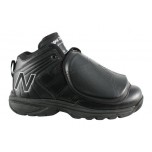 Doug Weiss, New Mexico
I used to love the Reebok - now I'm not sure why! Great looking shoe right out of the box, very comfortable. But since they've widen the toe box, order your normal size. I went with a half size bigger, and they are a teeny bit big, but not enough to send back. Love these shoes!
Louis Santoni, Riverside, California
I purchased these based on a friends recommendation. I used them during a game that had light rain all game. Normally I would only take 4 balls onto the field. Because of the damp conditions I took a total of 8 to be used. Carried 4 in the left bag and 3 in my right with one in play. Still had room for a couple more and it was still easy to get into the pockets to get line up cards, pen and plate brush. Only bag I will buy now and gets my highest recommendations.