Baseball Umpire Equipment
Find Quality Brand-name Baseball And Softball Umpire Uniforms, Equipment, Shoes And Apparel. Ump-Attire.com, The #1 Online Destination For Officials' Sporting Goods Worldwide, Has Everything You Need - For Any Level Youth, High School, College And MLB - Including Protective Gear, Shirts, Pants, Jackets, Caps And Accessories.
John M, Miami, Florida
Great product, a little tight around the neck, but it stays in place.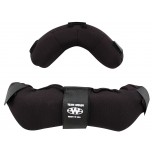 D Ray T., Champaign, IL
I have two single bar masks, and it was time to replace the pads on one. I gave the Wendy pads a try, and promptly replaced the pads on the other mask with Wendy pads too. I have worn doe skin pads for years, and these are certainly lighter and more comfortable on my face - even with 5 o'clock shadow. The stiffness you feel out of the box is gone by the second inning. Give them a try!! You will not be disappointed.