Baseball Umpire Equipment
Find Quality Brand-name Baseball And Softball Umpire Uniforms, Equipment, Shoes And Apparel. Ump-Attire.com, The #1 Online Destination For Officials' Sporting Goods Worldwide, Has Everything You Need - For Any Level Youth, High School, College And MLB - Including Protective Gear, Shirts, Pants, Jackets, Caps And Accessories.

Rob Heaney
Bought 2 pants in 012, nice fit, looks good, BUT zippers on both broke in a matter of months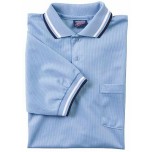 Danny Campbell
I really like the shirt. The shirt size runs slightly larger than other brands. (I wear XL but found L will fit over my baseball chest protector.) They are a little more "stiff" which allows for a newer look, longer. They wear well. In my opinion, maybe a little hotter, but a really great shirt!