Baseball Umpire Equipment
Find Quality Brand-name Baseball And Softball Umpire Uniforms, Equipment, Shoes And Apparel. Ump-Attire.com, The #1 Online Destination For Officials' Sporting Goods Worldwide, Has Everything You Need - For Any Level Youth, High School, College And MLB - Including Protective Gear, Shirts, Pants, Jackets, Caps And Accessories.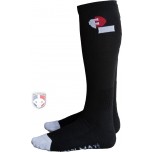 Terry D., Port Huron, MI
Been using these socks for a few years now, and a big fan of them. Very comfortable, wicks away moisture. Glad ump-attire.com now stocks them.
William (bill) S., Yuba City, CA
Being 5'9" and "Husky" I struggle at times getting my shirt on with this chest protector. It is somewhat bulky but I love the protection it provides around the collar. I preach to the young umpires if you take one in the belly it will leave a bruise. Take one on the collar bone and you may end up in a sling for 6 weeks. I used a Dremel tool with a sanding head to widen the neck a little. That helped a lot.