Baseball Umpire Equipment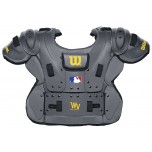 Rod Etchberger
I really have enjoyed the protection that the Wilson West Vest Platinum Umpire Chest Protector (#A3215) has given me during the season and I am very happy that I purchased it. Just used it last night for a High School Fall ball championship game with a pitcher throwing 89 mph and thankfully the catcher was experienced enough that I didn't take one off the chest. During the American Legion State Tournament, I took a hit from a foul tip and I can say the "noise" was worse than the hit to the shoulder. As a matter-of-fact, I felt absolutely nothing. Thanks for the recommendation and I certainly will recommend the Wilson West Vest Platinum Umpire Chest Protector (#A3215) to others as well.

MazDad , Franlkin, Wisconsin
I have been umpiring for 4 years and got tired of always adjusting the straps on the leg guards provided by the league. I investigated all of the off-season and came across these. Make no mistake, they are the most expensive leg guard I have seen for the 'amateur' umpire but they fit great and the protection has been phenomenal. There are two features that drove me to these versus the Diamond leg guards. The first was the attachment of the inner padding to the leg guard. They used velcro instead of stiching or riveting the pad in place. Not only does this allow the user to adjust the pads to exactly where they want, it also allows the user to take the pads out after the weekend and air them out. The second feature that I liked was the strap attachment. The designers of this leg guard attached the straps directly to a centralized strip that runs down the back of the calf. Simply put, no more pinching behind the knee from the strap. The only problem I have had has been the strap that runs down the calf. This is made of neoprene and I had to modify it some since I am allergic to this material. I still gave it 5-stars though.