Basketball Referee Equipment
Find Quality Brand-name Basketball Refereee Uniforms, Shoes, Gear And Apparel.
Ump-Attire.com, The #1 Online Destination For Officials' Sporting Goods, Has Everything You Need From Shirts, Pants, Whistles, Jackets And Other Attire.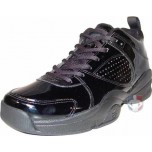 David Wood
This is by far the best pair of basketball officiating shoes I've owned. Right out of the box they were comfortable and supportive and look professional. The overall support of the shoe was outstanding. I highly recommend this product!
Robert W., Yates City, IL
Good product, would buy again.