Basketball Referee Equipment
Find Quality Brand Uniforms, Shoes, Equipment And Apparel For Basketball Referees. Ump-Attire.com Carries Everything Basketball Refs Need, Including Shirts, Pants, Jackets, Bags, Uniforms, Ball Pumps, Equipment And Attire. Get Equipped Right!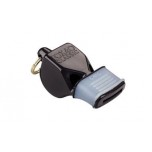 Steve K., New Milford, CT
Have used for several years. Love the comfort with the silicone bite tab. Keeps me from chomping down and it will last several seasons!!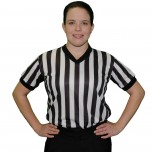 Brandy C., Payette, ID
I am currently a WFTDA official. (Women's Flat Track Derby Association) I was happy to find an officials shirt that was made for women without the fit of looking like a cocktail waitress. This fit was accurate in size. It is long enough to tuck if need be and stay tucked. If chosen to wear untucked it will not be too long. The polyester material is slightly see through but light enough that I will stay cool during heavy skating. Velcro elbow pads will snag this material so be wary of that. The whistle loop is easily removed with a seem ripper and in order to make the shirt WFTDA approved I had to remove the label off the bottom as well. The black side panel gives this shirt a sharp look and overall I am pleased with this shirt. If it was not for the visibility issues through the white stripes I would have rated it 5 stars.