Basketball Referee Equipment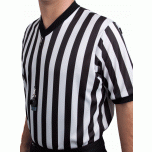 Andrew Bills, Columbia City, Indiana
They beat every ones. I have shirts in the closet from Honig's (3 styles), Official's Choice, McDavid, Smitty's and Cliff Keen. I don't wear them anymore, no shirt is softer, brighter and has an athletic fit so that you look clean cut and professional while working.

Sarah B., Fresno, CA
Thanks for finally having a good fitting shirt for women. Long enough to tuck in and still proper size/fit in chest.