Basketball Referee Equipment

Anonymous , Colorado
I love the comfort and fit of the shoe. Way better than anything I've tried before. The one drawback is the low-cut design. I've had a slight issue with my foot sliding out when I plant hard going laterally. I think a 3/4 cut would be perfect.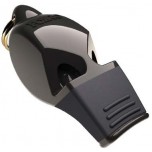 Stephen O., Tyler, TX
This is my favorite Fox 40 whistle. I like the fact that the mouthguard is designed as part of the whistle and not something that is just stuck on. In my experience the mouthguard on the eclipse is more durable than that of the classic. It is the only whistle I have bought and used the past couple of seasons.