Lacrosse Referee Equipment
Find Quality Brand-name Lacrosse Referee Equipment, Uniforms, Shoes And Apparel.
Ump-Attire.com, The #1 Online Destination For Officials' Sporting Goods, Has Everything You Need Including Shirts, Pants, Shorts, Caps, Bags, Penalty Flags And Other Attire, Gear And Accessories.

Rolando A., Jacksonville, FL
Good socks!! I wear these when I am the base Umpire and they are comfortable and durable.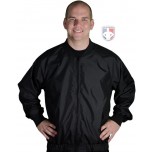 S K., Dublin , IN
This was the first jacket I've ever bought and wore it to all my games this past winter. I've been very happy with my purchase. The jacket is made extremely well and durable. Great fabric, and looks and feels like it cost a lot more then I paid for it. If you're looking for a plain black jacket, you'll be happy with this one!