Umpire Chest Protector Buying Guide
May 17th, 2014
The Basics
Umpire chest protectors are perhaps your most important gear choice due to its protection of vital body parts including the heart. In reality, they should be called chest, shoulder and rib protectors as there is protection available for all of these areas; and in some cases, even the less important stomach area can be protected.
When choosing an umpire chest protector, you must first choose the level of protection needed. Chest protectors come in either a hard shell with soft inner padding or with soft padding, with or without hard plastic inserts. Obviously, you will get more protection from the hard shell than you will the soft, but the soft will be lighter, cooler, relatively more comfortable and less expensive.
The hard shell umpire chest protectors are now made with lighter materials than ever and do contour better to the body than older styles for a more comfortable fit.
Chest protectors will cover from the bottom of your neck down to your belly button. Depending on your position, you'll be in a position where anything lower will not be exposed. The chest protector will not protect your throat. Some face masks have an extra extension that should cover you. An additional throat protector will help bridge any gap that might leave more than your throat exposed.
Most chest protectors come with an adjustable harness that will fit around your back and latch into the other side to keep in place when behind the plate. Umpire shirts are made to fit over any chest protector style.
In-Depth
Hard Shell Umpire Chest Protectors
Seasoned umpires will tell you to get the hard shell chest protector if you can afford it at any level, but especially the college, minor and major elague levels. Most of those who wear the soft shell chest protectors don't have any problems, perhaps for years, then maybe they'll take that one hit that leaves a nasty bruise.

In the past, if you wanted a new hard shell, you bought a Wilson one, designed by long-time MLB umpire Joe West. They have 3 styles, 2 higher end models (gold and platinum) and a lower end, but great value, charcoal one- especially considering it has the extra feature of bicep protection if you want that. Some don't. Some do. It's your preference. The nice thing about the Wilson charcoal is that the bicep protection is removable if you decide it's not your thing.

The only problem with the Wilson chest protectors for some are that they are at most 12.75" long neck to bottom leaving some taller people a little more exposed in the ribs and stomach. The stomach is not as essential to protect, but it's hard to yell "STRIKE THREE" with a cracked rib. So, if you are looking for a top of the line chest protector and can get by with the shorter ones, then one made by Wilson is right for you.

If you need something longer, there are multiple options. One is the new All-Star System Seven chest protector that comes in a 15" size as well as 12", Champro's Pro-Plus hard shell chest protector that comes in 3 longer sizes (13", 14.5" and 16") and Champion's Body Armor chest protector that aslo comes in 3 sizes (13", 15" and 17"). For value, the Champro and Champion give you 3-4 more inches at a much lower cost.
On the level of protection, you get what you pay for. Despite the greater value with Champro and Champion, they do protect less than the Wilson and All-Star designs. The Champro does not provide a continuous outer shell and the Champion does not have hard plastic in the collar bone area. Plus, its riveted design pulls padding inward where the rivets attach leaving some spots with mostly shell only.
An FAQ is often "what's the difference between the Gold and Platinum?".

Well, the Gold offers more protection around the shoulders and is more contoured and a little tighter around the clavicle and the L/XL is the longest at 12.75" . The Gold has the thickest underneath padding of the 3 hard styles.

The Platinum has additional sternum protection, but doesn't provide as much coverage on smaller framed individuals in the collar bone area due to its design unless tightened completely. The Charcoal offers the additional biceps protection that can easily be removed if desired. All offer good rib protection as long as the type and size you get does cover the rib area.

So, yes, the Gold, although black in color, is the gold standard.

An FAQ we expect with the new System Seven from All-Star is regarding the differences between All-Star and Wilson. The quick answer is that Wilson will offer the most protection with its thicker padding where All-Star has additional features in a lower profile design, washable padding, pre-curved shoulders and a DeltaFlex harness which fits more snuggly than the Wilson's harness design.
Soft Shell Umpire Chest Protectors
The soft shell umpire chest protectors have come a long way as most provide more protection than in the past. Besides being lightweight, all provide more perspiration management, are up to 5" longer and are less expensive than most of their hard-shell cousins.

Soft shells vary on whether or not they have additional extensions for the biceps, whether multiple sizing options are available and whether or not they offer added protection through plastic plates embedded within the chest protector itself.

The Diamond soft shell umpire chest protector (not shown below) is a very basic chest protector ribbed-style that does offer some shoulder protection and only should be used for lower youth levels (e.g. 7-8 yr. olds).

Other soft shells such as the Champro Pro-Plus and Diamond iX3 have embedded hard plastic inserts that provide for a higher level of protection than traditional ribbed foam-only soft shells.
The conventional wisdom is that there is no doubt these chest protectors provide adequate protection for youth levels and even through junior varsity (e.g. 14-15 yr. olds). However, there is continuing debate on whether these styles provide adequate protection at the high school level.

While manufacturers claim they are acceptable at that level, and most of the time they are, some veteran umpires including those who have used both hard and soft shell types, recommend only the hard shell variety at this level.

If you are not sold on the hard shells, among the soft shells the most protective is the Diamond iX3. If you wear any soft shell at the high school level (baseball or softball), we recommend that one. However, you have to understand one high school game or one high school pitcher is not the same as the other. Wear them with caution.

Of the Champro Pro-Plus, our recommendation is a strong JV or lower only. This will work quite nicely at any of those levels but with some of the same level of caution with differences in teams, pitches, etc.
Regarding sizing, the Champro offers the best range. There are 13", 14.5" and 16" sizes. With the optional sizing plate, sizes 17" - 20" are also possible. For more options, see the chart below:
Soft Shell Comparison
Weight
Moisture Management
Sizes
(neck to bottom)
Embedded Plastic Plates
Biceps Protection
Sizing Plate
Diamond iX3 Chest Protector
2.75 lbs
(including sizing plate)
Yes
(Coolmax)
14"*
*(18 1/2" with sizing plate )
Yes
Yes
Yes
Champro Pro-Plus Chest Protector
2.4 lbs
Yes
(Dri-Gear)
M - 13"
L - 14 1/2"
XL - 16"
Yes
Yes*
*(add-on available 2011)
Yes*
*(add-on available 2011)
Diamond 16.5 " Chest Protector
1.65 lbs
Yes
(Coolmax)
16 1/2"
No
No
No

Paying for Protection
As with other protective gear, expect to pay more for more protection and features.
Umpire Chest Protector Care
First of all, extend your chest protector's life by wiping any moisture off after each game.
Secondly, don't throw your whole chest protector in the washing machine. Use a mild soap instead, and wash by hand without immersing into water. The All-Star System Seven's inner torso padding is fully removable for machine washing, however.

Lastly, check your straps periodically for wear. If you find yourself adjusting it often, a new chest protector harness will likely be the fix.
Want to Know More?
Each umpire chest protector product page provides detailed information, sizing options, reviews, related blog posts and additional images including chest protectors worn front and back, something you'll only find here at Ump-Attire.com.
About the Author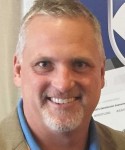 President/CEO of Score 451 Sports, LLC and Ump-Attire.com Jim Kirk
Jim is an avid fan of sports and sports officials everywhere. He is a former high school umpire and college baseball player. He got involved in E-Commerce while working on an MBA and bought Ump-Attire.com in 2006. He serves on the board of directors of UMPS CARE, the charity of MLB umpires, where he was named the 2015 Ambassador Award recipient, coaches youth baseball, was named to his high school's All-Century baseball team and is proud of his company's sponsorship of Minor League Baseball Umpires and Minor League Baseball Umpire Training Academy.