CREW HOW-TO: Crease Your Umpire Caps Like The Pros
May 9th, 2017
Why do we crease our umpire hats? A creased hat will help you stand out from the players and coaches on the field. We want to show military discipline and prove we are ready to take charge of what is getting ready to happen on the field.
What you will need: Iron, ironing board, t-shirt, and your cap.
Use fingers to create a symmetrical line on cap, directly in front of the eyelids on the top of the cap. Not on the eyelids, not behind the eyelids, but directly in front of the eyelids. Apply pressure to the fold.
To make the crease permanent, place cap on ironing board and put a t-shirt on top of the cap.
Press down on the crease with a hot iron. Make sure to keep the iron moving to avoid burning the material.
Tighten crease by running fingers across crease as if you are trying to pull the cap apart.
To keep your crease looking sharp, use a Cap Keep for safekeeping in your bag.
Thank you for watching your man Scott Kennedy's Crew How-To: Crease Your Umpire Cap Just Like the Pros. Follow our Youtube, Facebook, Instagram, and Twitter for more exclusive content.
Video
CREW HOW-TO: Crease Your Umpire Caps Just Like The Pros
Former Triple-A Umpire and Current SEC & ACC Umpire Scott Kennedy shows how to crease your umpire hat.
Related Articles
About the Author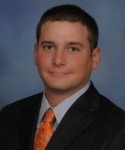 Marketing Assistant, Pro School Umpire Graduate Josh Mann
A native of Chicago, Josh graduated from the University of Arizona with degrees in Economy & Industry and Sports Management. He attended the Minor League Baseball Umpire Training Academy and Harry Wendelstedt Umpire School, umpired in the Frontier Professional Baseball League and worked in the Chicago Cubs Organization. Josh enjoys baseball, hockey, golf and spending time with his dog Wrigley.