Fox 40 Mini Electronic Whistle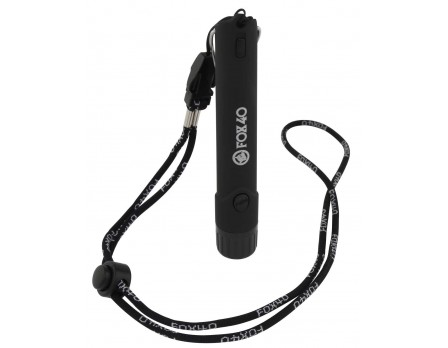 Hover for
larger image
Product Video
Fox 40 Electronic Whistle Mini
Additional Video
The Dish: COVID-19 Solutions for Umpires and Referees
Official Reviews
Average:
December 5, 2020
Used this mini electronic whistle for a girls basketball game last night. Batteries were new, so that shouldn't have been an issue. Even with only ~30 fans in the gym, my partners said they never could hear the whistle. It's much comfortable in my hand than the bigger electronic whistle, but nowhere near loud enough to be useful.
December 1, 2020
Light and easy to handle. The sound is better than I thought. It's no Fox 40 but I feel this can be used in replace of a regular whistle with no or a few fans in attendance.
September 19, 2020
This mini electronic whistle is very weak sounding. Tried to use it in a VB match with no fans. Could not be heard by my R2 or the players. Save your money, & pass on this.
Questions About This Product
Q:
For this Fox 40 Mini Electronic Whistle, what kind of batteries does it take?
– Bobby Hensley Jr
A:

This mini electronic whistle will require 4 L1154F cell batteries. They are included in this purchase.

– Hunter Fry
Buyer, Customer Service Specialist, Former Basketball Referee
Articles Related To This Product
Coronavirus resources and communications for sports officials: Unemployment resources, state-by-state updates, safety best practices and business messages.
Find out the best referee whistle by decibel level. This will help you choose whether you need one for the largest venue or your local league.
Traditional whistles are problematic during the COVID-19 epidemic due to the spreading of tiny droplets and/or wearing cloth masks. Learn more about electronic whistles being used in your sport.