Campaign Kickoff for Breast Cancer Awareness Month in October
Sep 22nd, 2016
Many sports officials across the country wear pink in October, breast cancer awareness month, and on Mother's Day. We are proud to help support these efforts with a yearly campaign that features sales of pink sports officiating products.


Last year, with the help of customers like you and local associations, $3,500 was raised for the American Cancer Society, a new record! Won't you help us reach our 2016 goal of $4,000?
PINK ITEMS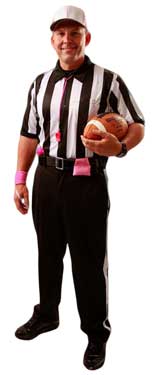 If you are already a "BLUE for Pink Umpire" or someone who "Blows the Whistle Against Breast Cancer" or someone who "Throws the Flag on Breast Cancer", thank you!
We are proud to be Your Official Pink Outfitter.
Truly, the easiest thing for you to do help us reach this goal is purchase pink products throughout the year. Do so, and we will donate $1 to the American Cancer Society with each purchase of select pink products. Those products include pink whistles, flags and caps for referees and pink shirts and ball bags for umpires.
NEWEST
After recently adding 3 new pink products, we now offer 20 pink products for sports officials.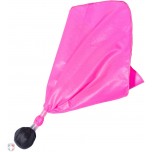 Pink Penalty Flag with Black Ball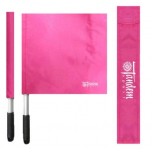 Pink Volleyball Linesman Flags
Find specific items for your sport: Baseball/Softball | Football/Lacrosse | Basketball/Wrestling | Volleyball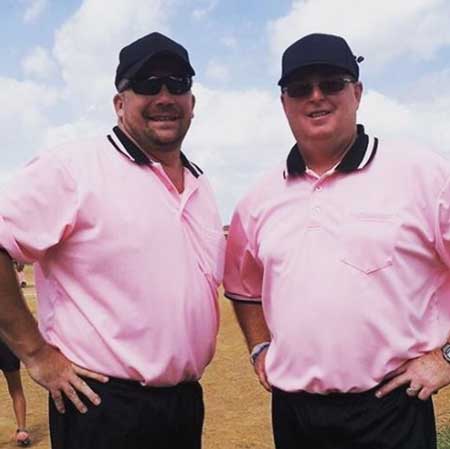 (Ron Bishop and Brent Robinson)

Association Fundraising
Another way we raise money through our campaign is to ask local associations to purchase pink products and/or "pass the hat" to make additional donations. Two groups located here with us in Louisville, the Kentuckiana Football Officials Association (KFOA) and Kentuckiana Baseball Umpire Association (KBUA), have been big supporters of our breast cancer efforts over the years.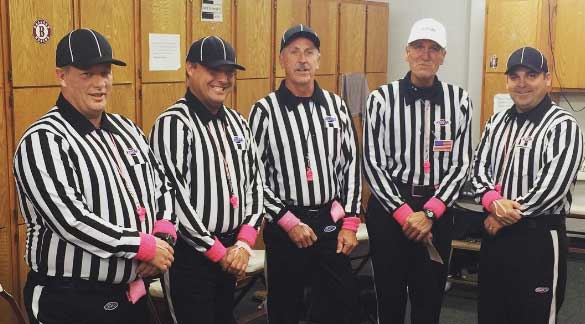 The KFOA is especially supportive during October. Last year, all officials sported pink down indicators and throw down bags during breast cancer awareness month and were responsible for $500 of our campaign amount through separate donations by their officials. This year, they'll be throwing the pink penalty flag in October.
We want to thank them and all other associations for their efforts.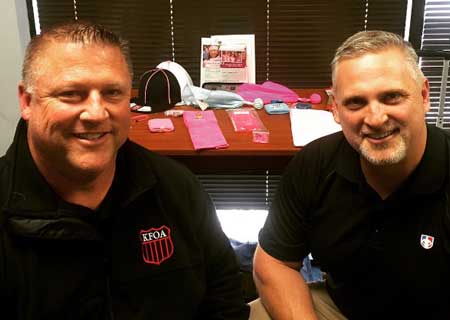 (KFOA President Don Hudson with Jim)
Cancer Walk
The final way we raise money is through the Making Strides Against Breast Cancer Walk. Our staff will ask for donations from friends and families and, then, walk with over 500,000 individuals on October 30th at Waterfront Park in downtown Louisville.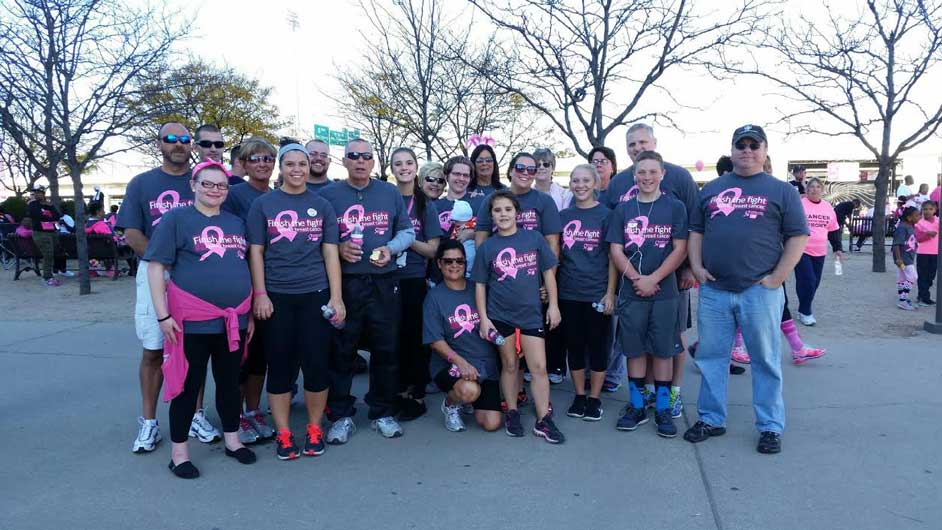 Learn More
Thanks to the American Cancer Society and dramatic improvements in cancer research, treatment and early detection, millions of women are surviving breast cancer today. Learn more at the ACS website.
View the Facebook LIVE Kickoff Video with Scott Kennedy and Myra Breit.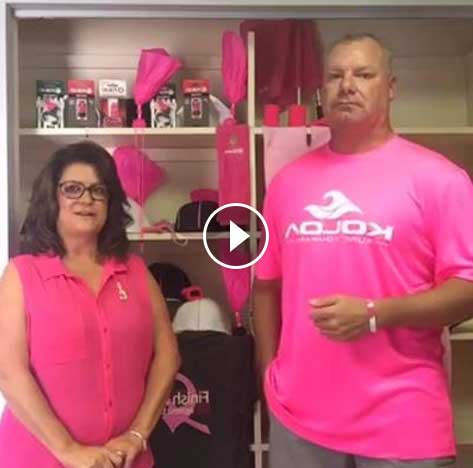 Related Articles
About the Author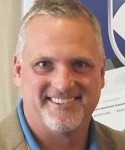 President/CEO of Score 451 Sports, LLC and Ump-Attire.com Jim Kirk
Jim has had a passion for sports since he can remember. After playing baseball at Centre College, he worked as a high school umpire in Southeastern Kentucky - during the Elbeco shirt years - as a way to make ends meet. He became involved in E-Commerce while working on an MBA in the early 2000s and eventually bought Ump-Attire.com in 2006. Jim is proud of Ump-Attire.com's success, staff and sponsorship of various groups including Minor League Baseball Umpires, Minor League Baseball Umpire Training Academy and UMPS CARE, the charity of MLB umpires. He currently serves on their board of directors and was named their 2015 Ambassador Award recipient. Jim has also coached youth baseball many years and currently coaches middle school baseball at Christian Academy of Louisville. He lives in Louisville with his wife Lori, daughter Lydia and son Ben.