Dalco Mesh Umpire Shirt - White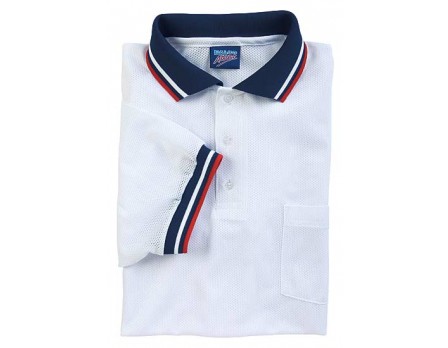 Hover for
larger image
Customer Reviews
Average:
April 22, 2016
Very thin and flimsy. Tails are not long enough. Smitty is much better product at better price
June 18, 2014
This is one great shirt. Looks sharp, washes well and really fits great over my Wilson West Vest Platinum Umpire Chest Protector. It also dries quickly so its ready to go for the second game of a double header. I recommend this shirt for all umpires.
May 10, 2010
"I really like the shirt. The shirt size runs slightly larger than other brands. (I wear XL but found L will fit over my baseball chest protector.) They are a little more "stiff" which allows for a newer look, longer. They wear well. In my opinion, maybe a little hotter, but a really great shirt!"
Chuck Stiefken
Highland, California
February 20, 2008
Glad I found a source for the Dalco shirts. They are the best. Stretch to go over the chest protector and fit like a glove. No more needing help getting a shirt on.
December 27, 2007
From my point of view I love buying this brand for umpire shirts because they are a little tighter fit (which I really like). They are the best shirts to wear in the warm weather because they are very breathable. Personally I think they look the best on an umpire rather than having an umpire with a huge baggy shirt on. Also you guys have the best prices on these.
Product Blog Posts
Learn the secret about what's available to keep your umpire and referee shirts tucked in with that crisp, tight military appearance of authority.
Reebok Zig Magistrate Umpire Base Shoes, Majestic Umpire Jackets and umpire shirts from Dalco, Majestic and Ump-Attire.
Find out how fellow umpires and referees keep their shirts in top shape all season long.