1 3/4" Hi-Gloss (Patent) Leather Referee / Umpire Belt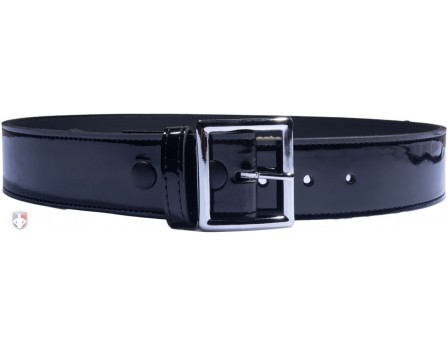 Hover for
larger image
Customer Reviews
Average:
This is without question the gold standard of umpire belts. I have had mine for almost 4 years now and it still looks as good as new. When you show up at the field wearing this it gives the impression that you are a serious umpire. Don't waste your money saving $10 buying the cheaper ones. Trust me, you'll be lucky to get two or three seasons out of them.
Superb belt. The "Gold standard" in uniform belts. I bought this belt from Ump-Attire as a replacement for a much larger belt I had in 2011 due to some serious inches loss I was able to undergo while in Afghanistan. I have used it as my plate belt since then for an average of 150 - 175 games a year and it still looks great. The stiffness of the belt has held up and it keeps my pants and ballbags where they are supposed to be. I highly recommend this belt. Order a two sizes in inches larger than your waist for best fit. You cannot buy a better belt for working the plate than this belt in my opinion.
This is the exact belt that MLB and almost all college baseball umpires wear. It is a great looking belt and definitely fits true to size. I would suggest getting this thicker belt rather than the thin ones, just my personal opinion. I think they look better.
The best belt I have owned invest in the better Boston belt it will last for years with minimal stretching.
Just got this belt to replace my older belt and I love it so far. Overall a great product and looks sharp on the field as well. I recommend this thicker leather belt to anyone looking for a great looking and great feeling product on the field.
Product Blog Posts