1 3/4" Hi-Gloss (Patent) Leather Referee / Umpire Belt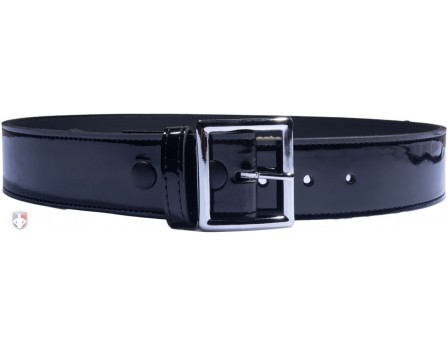 Hover for
larger image
Customer Reviews
Average:
September 24, 2015
This is without question the gold standard of umpire belts. I have had mine for almost 4 years now and it still looks as good as new. When you show up at the field wearing this it gives the impression that you are a serious umpire. Don't waste your money saving $10 buying the cheaper ones. Trust me, you'll be lucky to get two or three seasons out of them.
June 23, 2014
Superb belt. The "Gold standard" in uniform belts. I bought this belt from Ump-Attire as a replacement for a much larger belt I had in 2011 due to some serious inches loss I was able to undergo while in Afghanistan. I have used it as my plate belt since then for an average of 150 - 175 games a year and it still looks great. The stiffness of the belt has held up and it keeps my pants and ballbags where they are supposed to be. I highly recommend this belt. Order a two sizes in inches larger than your waist for best fit. You cannot buy a better belt for working the plate than this belt in my opinion.
June 18, 2014
This is the exact belt that MLB and almost all college baseball umpires wear. It is a great looking belt and definitely fits true to size. I would suggest getting this thicker belt rather than the thin ones, just my personal opinion. I think they look better.
June 17, 2014
The best belt I have owned invest in the better Boston belt it will last for years with minimal stretching.
May 30, 2014
Just got this belt to replace my older belt and I love it so far. Overall a great product and looks sharp on the field as well. I recommend this thicker leather belt to anyone looking for a great looking and great feeling product on the field.
Product Blog Posts
Football referee gear that is either newer items that are outselling other items in their category or items that have seen a significant year-to-year increase in sales.
The Umpire School, run by Minor League Baseball's PBUC, just commenced with 87 graduates from 5 countries. Find out the most wanted baseball umpire gear was for this year's class!
Ump-Attire.com and manufacturers team up to provide umpire gear at the first Wounded Warrior Umpire Camp.