All Star 4-Dial Die Cast Metal Umpire Indicator - 3/2/2 Count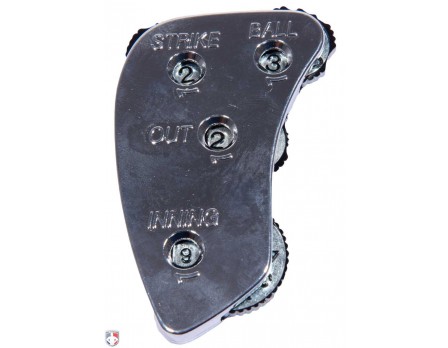 Hover for
larger image
Customer Reviews
Average:
January 12, 2017
Absolutely love this umpire indicator! Feels rock solid in my hand and I personally love the slightly heavier weight than the plastic indicators, which I used for years before getting this a couple years ago. Also love the 3-2-2 layout, plus the innings dial to use if necessary. Note that the dials can be a little stiff at times, but that has not caused any issues for me. I have heard of guys opening theirs up and putting in a drop of oil to loosen them up, but I haven't felt the need to do so. Highly recommend this indicator.
October 12, 2016
Love this indicator! I've been using this model indicator for better than 6 years. After using it, I find it hard to use any other. It is so solid and I love the heavier feel. It is definitely worth the few extra dollars. Only negative I can find is the chrome face, sometimes the sun or lights can cause a reflection on your eyes, to solve that, I took a piece of scotch-brite and dulled up the face. Only one on the market like it. Thanks ALL-STAR!
June 21, 2016
This is my second one, had the first one for over 5 yrs. I think this is the best umpire indicator out there. Works great. Comes apart well, just two screws and once cleaned and oiled up works like brand new once again. The reason for a new one is I wore this one out. I will never buy any other indicators. I don't really get why you would want one that tells you it is strike 3 or ball 4.