All Star 4-Dial Die Cast Metal Umpire Indicator - 3/2/2 Count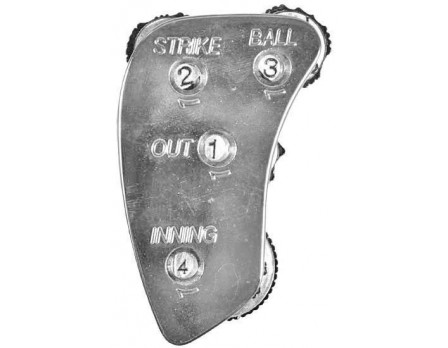 Hover for
larger image
Customer Reviews
Average:
June 21, 2016
This is my second one, had the first one for over 5 yrs. I think this is the best umpire indicator out there. Works great. Comes apart well, just two screws and once cleaned and oiled up works like brand new once again. The reason for a new one is I wore this one out. I will never buy any other indicators. I don't really get why you would want one that tells you it is strike 3 or ball 4.
May 19, 2016
Went to this from a pretty cheap plastic one. The bulk in my opinion is worth it since to me it feels stronger. Wheels slide OK but aren't the greatest. As well as going from a 4-3-3 counter to a 3-2-2 counter was pretty difficult. Also carries a hefty price tag that could definitely be lowered to a more plausible number.
March 7, 2016
Why did nobody tell me these existed when I started umpiring? This is by far the best umpire indicator I have ever used. 1) It does away with the worthless "strike 3" and "ball 4" options (some might not consider this a positive, but I certainly do). 2) You can feel exactly what the status Is without looking. I never miss any game action because I'm resetting my indicator. 3) With a screwdriver, you can take it apart and use a dry lubricant (I use graphite) when it gets stiff. My only regret is that I didn't purchase it sooner.
November 9, 2015
Had this umpire indicator and tossed it out...too heavy, wheels don't rotate well, not good for hot days and I can never get used to the strikes being first. It makes no sense to have strikes listed first on any indicator....love the 3-2-2 so I bought the cheap plastic one with the balls first and works just as well and it a lot cheaper.
September 21, 2015
I know some reviewers don't, but I like the heft of this. Will see how well it holds up, but early indications are good, particularly compared to cheap plastic indicators. Big fan of the 3-2-2. Two drawbacks. Not fun to hold on a particularly humid day if your hands are sweaty. Also sometimes the wheel rotation is not smooth and you wonder if it will be caught between numbers. I suppose the notching is good for those who want to use it, but I don't see myself doing that. Good thing on the wheels is that they don't end up blistering or hurting your fingers as often happens after a full game using one of the cheaper plastic indicators.