Markwort Stainless Steel Umpire Indicator 4-Dial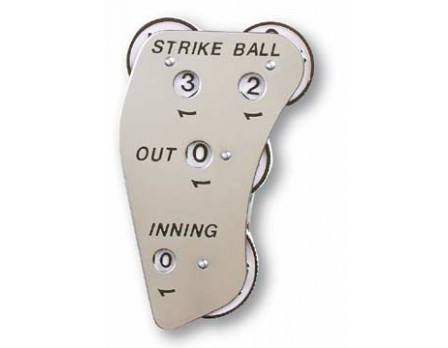 Hover for
larger image
Customer Reviews
Average:
Bought my first one of these about 6 years ago. Still using it without any issues. The wheels still lock and click like they should. Get it, you won't be sorry.
I have no idea why any indicator goes to 3 strikes 4 balls and 3 outs. Useless. The indicator itself it very thin and light weight. Would give 5 stars if it went to 3-2-2.
This is a very well-made indicator. I've had it for years and never had a problem. It's sturdy, but very light and fits nicely in your hand. My only complaint is that it's a 4-3-3 model. I've never understood why anyone makes indicators that go to 4 balls and 3 strikes. If they would make this in a 3-2-2 model, I would give it five stars.
John
Jacksonville, Florida
This is the best indicator I have ever had. Don't think that all metal indicators are alike. If you've used one of these, and gotten a different replacement, you'll be back for one of these after a few games.
M Bryan Pelfrey
Camp Verde, Arizona
The best indicator on the market! It will not break when hit by a ball and has never jammed or become unable to spin wheels. I am still using the same one for 10 years.